« Obituaries | Julienne A. Poulin
Julienne A. Poulin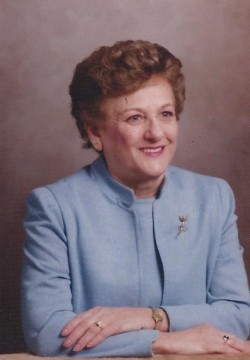 Date of Death: June 19, 2014
Date of Birth: July 17, 1924
Biography:
On Thursday, June 19, at D'Youville Pavilion, our beloved mother Julienne A. Poulin, 89, of Auburn, went to be with the Lord as we encircled her in our love and whispered, "You can go, Mom, we'll be okay."  And within minutes her eyes, which hadn't opened for days, stared up at something past us—something we couldn't see—and her lips mouthed words we couldn't hear to the angel we knew had come to guide her home to her deceased loved ones who'd surely paved her a golden path to Heaven.
Mom was born in Lewiston on July 17, 1924, the daughter of Adolph and Dinora (Rancourt) Lessard. She was educated in Lewiston schools before marrying her childhood sweetheart, Marcel E. Poulin, in January of 1942.
Before retirement, she was the receptionist at Jean Paul's Hairstyling & Sunless Tanning Center, a job she loved because of the interaction with people—besides her family, Mom loved people.  She showed it every day of her life, even taking in a family of strangers stranded outside her apartment building during a snowstorm. 
Besides loving her family and others, our mom loved God.  A devout Roman Catholic, she sang with the Charismatic Choir, in various churches, for many years. 
And when she wasn't entertaining churchgoers with her singing, she enjoyed camping with her family and baking delicious novelty cakes for any occasion.  She also loved preparing and hosting large holiday meals, for family and friends, somehow finding the energy even though she took care of her aged father, her ailing brother and a granddaughter who was more of a daughter.  She did it all because she was a kind, caring person who gave even when she had little to spare.  She was an ordinary woman living an ordinary life who knew that what you do for yourself dies with you, but what you do for another leaves a piece of you behind forever.
She leaves behind her daughter, Jacqueline Camire and husband Richard, of Greene; her son Ronald Poulin and wife Cecile, of Lisbon Falls; her son John Poulin and wife Dolores, of Auburn; her sister Leone Poulin, of Mass.; eight grandchildren and three step-grandsons; twelve great grandchildren and four step-great grandchildren; four great-great grandchildren and a step-great-great grandchild; and many beloved nieces, nephews and cousins, and too many friends to list.
She was predeceased by her daughter, Monette; her son, Gary; her grandson, Raymond Letourneau; her former husband of 30 years, Marcel Poulin; her brothers, Gerard and Robert Lessard, and her brother-in-law, Roger Poulin.
A heartfelt "thank you" goes out to Robin and the rest of the Beacon hospice nurses, D'Youville doctors and nurses and CNAs, and to Andrea Poulin and Care Coordinator Jessica who cared above and beyond.  We will never forget the wonderful care you gave our mother.
The memorial service, will be held at 10am, on Tues., June 24th 2014 at the Holy Rosary Church in Sabattus, Maine, will be posted at a later date.  A graveside service, and burial, will take place at that time at Gracelawn Memorial Park following church services.
In lieu of flowers, donations may be made to the Dempsey Center, ATTN: CMMC Development Office, 300 Main Street, Lewiston, ME 04240.
Condolences may be expressed at funeralalternatives.net