« Obituaries | Gertrude Martha Pope
Gertrude Martha Pope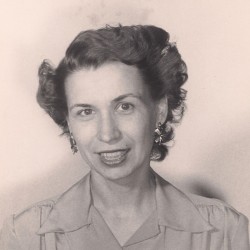 Date of Death: May 22, 2015
Date of Birth: April 10, 1923
Biography:
BATH, ME - We mourn the loss of our mother, Gertrude Martha Pope (neé Brost) who passed away May 22, 2015, in Bath, Maine, at age 92.
She was proud of her Polish heritage, being from NE Mpls, & graduating from Edison High.  After marrying, she lived with her husband, Geoffrey W. Pope, outside Excelsior, helping with his ready-to-wear sales career while raising a family of 4: Geoffrey (Amanda); Sheila (Mark) Franzen; Dana; and Colin (Kathleen). She is also survived by grandchildren, Margie, Sigrun, Karl, and Helen Franzen, Marta (Joe) Mulrooney; Jenna and Hans Pope; Zach McMillan; and 3 great grandchildren.
An aptitude for proofreading led to working for a time as a textbook editor for Burgess-Beckwith in Mpls. After her children left home, she started and ran Gert's Sample Shop in downtown Mpls. During that time she was active in the Women's Rotary Club as well as The Woman's Club of Minneapolis. In subsequent years, she was an administrator for a property management firm in suburban Mpls. Gert's love of words augmented her appreciation for books and The New Yorker magazine.
She was fond of traveling; music; art; and had a special skill of writing lucidly with humor, capturing moments and vignettes. She was a gourmet cook having an intuitive sense of combining ingredients as well as ideas from a vast collection of cookbooks. Her last years were spent in Maine, near family, still seeking adventure in new surroundings.
A family observance will be held in Maine.
In lieu of flowers the family suggests donations to The Woman's Club of Minneapolis Grants & Scholarships program, 410 Oak Grove St, Minneapolis, MN 55403-3294.