« Obituaries | Stephen A. Polli
Stephen A. Polli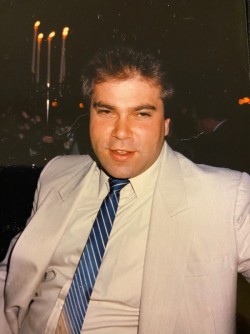 Date of Death: February 26, 2021
Date of Birth: December 25, 1961
Biography:
Stephen (Stevie) A. Polli, 59 of Greenwood, ME, formerly of Medford, MA passed away at home on February 26, 2021.
Stephen was born in Medford, MA on December 25, 1961 to the late Remo A. Polli and Marie (Raymond) Polli.
Stephen is survived by his loving wife of 24 years Diana (Friel) Polli and her sons Charles Johnson of Hanover, ME and Adam Johnson of Portland, ME.. Stephen is also survived by his sisters Linda A. Plourde and her husband Thomas of Plymouth, MA, Karen M. Kane and her late husband Thomas of Braintree, MA , stepbrother John Mackie and his wife Teresa of Canton, his stepmother Denise J. Polli of Braintree, MA  and nieces Leslie Egan, Lisa MacEwen, Julia Mackie, Maria Mackie, nephews, Brian Kane and Nolan Mackie.
Stephen graduated from Medford High School in 1979. He went on to work at his father's and uncle's business Market Grinding Service until he moved to Maine after he met his wife Diana. He was the beverage manager at Loose Boots Lounge at Mt. Abram Ski Resort in Greenwood, ME and the Tavern manager at The Bethel Inn Resort in Bethel, ME until his illness from Diabetes.
Stephen was an avid sports fan of all Boston sports.  He played golf for most of his life.  He loved animals.  Will be remembered for his big heart and great sense of humor.
There will be a service at the Our Lady of Snow, 265 Walker's Mills Rd Bethel, ME at 12:00 noon followed by a celebration of his life at The Bethel Inn Resort, 21 Broad St. Bethel, ME on April 24, 2021 at 1:00pm.  Friends and family are invited.  Memorial donations may be made to The American Diabetes Association