« Obituaries | Lorraine C. Plante
Lorraine C. Plante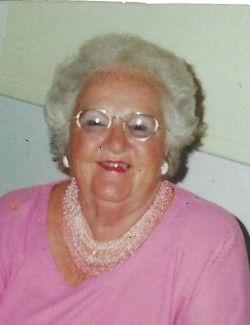 Date of Death: October 29, 2014
Date of Birth: August 15, 1928
Biography:
Lorraine C. Plante, 86, of 51 Jenkins St, Lewiston, passed away on Oct. 29th, 2014. She was born on August 5th, 1928 in Auburn to Idella and Frank Albert.
She grew up in Auburn with her two sisters, Pauline Ricard, and Priscilla Albert. She was married in 1945 to Fernand Plante and had three children that she loved very much.
She enjoyed spending time with her family and friends. She loved to cook and take care of her family. She also enjoyed playing bingo with her friends, and traveling. Lorraine loved to crochet and gave most of her creations away. In her earlier years she was captain of her bowling team.
Lorraine was a hard working woman, both at work and at home. She worked in mills, shoe shops, and as a box maker.
She was always there to give a helping hand; we will miss her and love her forever. She was a special gift.
Lorraine was predeceased by her parents, sisters, her husband, Fern and a granddaughter, Jessica J. Longchamps.
She is survived by her three children: Jacqueline Desmarais and her husband Gary Desmarais of Biddeford, Mike Plante of Auburn, and Linda Angelides of Lewiston; five grandchildren: Debrah, James, Mike, Jennifer, and Jessica; nine great grandchildren: Erika, Mike, Laura, Parker, Cameron, Christian, Kendra, Jade, and Mason; two great great grandchildren: Ella and Christopher; and her Godson, Peter Ricard.
There will be no services at this time.