« Obituaries | Rudolph Pistey
Rudolph Pistey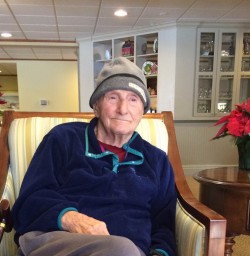 Date of Death: June 10, 2015
Date of Birth: December 21, 1918
Biography:
Rudolph Pistey, 96, passed away peacefully in Falmouth, Maine, on June 10, 2015. He was born in Bridgeport, Conn., on Dec. 21, 1918, to Helen and Peter Pistey, and was one of seven children. Rudy worked as a tool setter/machinist for Harvey Hubbell Inc., for 30 years, retiring at age 60. He lived in Stratford, Conn., for the majority of his life.
A veteran of WWII and devout member of the Stratford United Methodist Church, Rudolph is survived by his daughter Rhoda Dillman and her husband Doug of Yarmouth, Maine, son Mark Pistey of Topsham, Maine, son Kevin Pistey of Jaffrey, N.H., and two grandchildren Jason and Larissa Dillman. Rudolph was predeceased by his wife of 49 years, Nellena Davis Pistey, in 1997. Rudy always had a story to tell and was a lifelong jokester with a genuine smile for everyone.
Rudy was an avid golfer with a Connecticut state handicap of 4. He played golf into his late 80s. During his life Rudy devoted himself to helping anyone who needed help. He volunteered for the U.S. immigration service by assisting new citizens who were becoming familiar with life in the U.S., including driving many people around for grocery shopping, schooling and doctor appointments. He also worked with his church to provide clothing and household furnishings for many people who started their life in the U.S. with very little. He was also a volunteer for many activities supported by church groups and other charity organizations. Camping at Sebago Lake State Park, Naples, Maine every summer since it's opening quickly became his favorite relaxation spot with family and friends.
Memorial donations can be made in his name to the
House of Heroes CT Chapter
3000 Whitney Ave, Suite 233
Hamden, CT 06518