« Obituaries | Leon Albert Pickard
Leon Albert Pickard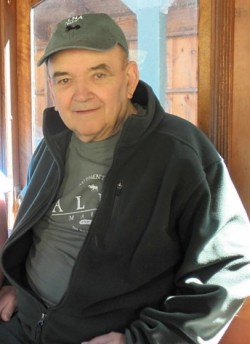 Date of Death: July 7, 2014
Date of Birth: July 16, 1934
Biography:
Topsham -- Leon Albert Pickard, age 79, of Lewiston Road passed away Monday, July 7, 2014, at home with his family around him.
  Born in Alna, ME to the late Leon H. and Alice G. Pickard. He moved to Topsham at a young age. After graduating from Brunswick High School and Wentworth Institute of Technology (Boston) he went to work as a substitute mail carrier for the Topsham Post Office, followed by Wright-Pierce. He was a self-employed contractor/builder for over 50 yrs. and provided small engine and appliance repair for over 35 yrs. He was a member of the Masons and the Topsham Grange.
He married Frances Elaine Crosman of Topsham on October 29, 1955. He is survived by his wife Frances of 58 years, four daughters, Deborah A. Russo (Topsham), Doreen L. Robnett and her husband David (Glendale, AZ), Dale F. Pickard and her partner Ronnie Hodges (Lisbon Falls), Dianne A. Gagnon and her husband Dan (Waterboro), three granddaughters (Valerie Russo-Reddall, Linda Sparks, Kate Allen, and their husbands), six great-grandchildren (Haiden and Kensley Allen, Miles and Isla Reddall, Owen and Jaina Sparks). He is also survived by his brother Donald Pickard, his wife Alberta, and many nieces and nephews.
Services will be held at the United Baptist Church, 1 Elm Street, Topsham, ME at 10 a.m., Saturday, July 26. A brief reception is to immediately follow downstairs in Fellowship Hall. He will be laid to rest in the Alna Cemetery, Alna, ME.
In lieu of flowers, memorial contributions may be made to Maine Parkinson Society, 359 Perry Road, Bangor, ME 04401.
Cremation arrangements are by Funeral Alternatives, 8 Pleasant Street, Brunswick, ME.