« Obituaries | Thomas Richard Picher
Thomas Richard Picher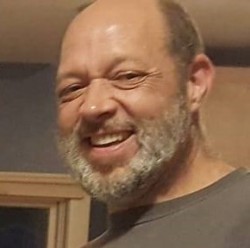 Date of Death: September 7, 2018
Date of Birth: May 15, 1971
Biography:
Thomas Richard Picher, 47, of Augusta died at home on September 7, 2018 after a short battle with cancer. Thom was born May 15, 1971, in Augusta, the son of Pastor Robert and Gail Picher of Vassalboro.
Graduating from Erskine Academy, 1989, Thom worked as a machine line operator at Cives Steel Company for the last 20 years as a member of Local 807, Iron Workers Union.
Halloween being a favorite time of year for Thom and Rebecca Gilbert, 47, the couple was married October 31, 2013, at the Kennebec River in Augusta.
Every fall, Thom spent November hunting with his Dad, family and friends.  In his spare hours, Thom enjoyed tinkering with small engines, working in his yard at home and craft beers.
Especially grateful for his 3 step daughters, their husbands and 7 grandchildren; Thom spent several weekends every month spoiling them.  
Thom is survived by his wife of 5 years, Rebecca Picher, his parents, Bob and Gail Picher of Vassalboro; step daughters: Reagan Davenport (Evan Davenport); Katie Gilbert Wiley, (Steven Wiley) Vanessa Gilbert (Joe Charles), grandchildren, Steven, Greg, Owen, Connor, Janet, Amelia & Annabelle.
A Celebration of Life will be held on Sunday, Sept. 23rd at 2:30 at the Unitarian Universalist Community Church, 69 Winthrop Street, Augusta.  Service will be officiated by Rev. Carie Johnsen.
In lieu of flowers; engage in a random act of kindness: surprise your spouse or child with flowers; take a friend to dinner, pay for the person behind you in the drive thru; do a surprise favor for a neighbor or your parents.