« Obituaries | Theresa Ouellet Picard
Theresa Ouellet Picard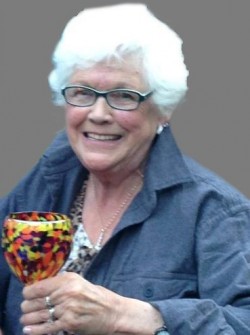 Date of Death: January 6, 2018
Date of Birth: September 19, 1938
Biography:
Theresa Ouellet Picard, 79, of Lincoln, Maine passed away comfortably in Freeport, Maine surrounded by her family on January 6th after ongoing health complications.
Theresa was born in St Elzear, Quebec on September 19, 1938. Upon marriage in 1962, she moved to Lincoln, Maine with her husband Marius with the pretense of "much warmer climate" where they quickly started their family. She remained active in her church community and often remembered as a forever fashionable woman with grace and beauty inside and out. Their circle of French Canadian friends was always special to her, with the center being the Knights of Columbus and Daughters of Isabella activities.
She enjoyed berry picking, gardening, shopping, cooking, baking everyone's favorite treats, and spending time with her family and friends. Those closest to her always found humor in her pet names for her grandchildren, her constant attempt to win card games (at all cost) and her Facebook skills.
Theresa is survived by her husband of 55 years, Marius, her daughters and significant others, Lynn Easler and Tim Cahill of Freeport, Maine and Doreen Martin and Joe Pace of Bowdoin, Maine. Her grandchildren were very special to her; Deryk Martin, Lauren and Landon Easler and Courtney and husband Ryan Mildrum who are expecting Theresa's first great grandchild in February. She had a special relationship with a "tird" daughter, Francine Slowikowski and considered her children to be extended family; Jeremy and Brittany Goding, Julia and husband Jeremy Bemis including their children, Ava, Josia, Abram, Austin and Jonah. Being one of 15 siblings, her brothers and sisters were so close to her heart, Real, Sister Patricia, Tony, Renaud, Laurette, Rolland, Renald, Jeanne and Jean-Eudes and their vast families.
Those preceded in death include her mother and father, Jane and Eugene Ouellet and her sisters and brothers Rita, Anita, Rejean, Rejeanne, Jean-Yves and a very special friend and neighbor Babe Daigle.
A funeral service will be held in May at St. Mary's Catholic Church, a burial in Lincoln and a celebration of life to follow at the Knights of Columbus Hall.
In lieu of flowers, memorial donations may be given to The Daughters of Isabella, c/o Marscella Ireland, 600 West Broadway, Lincoln, ME 04457.