« Obituaries | George William Phipps
George William Phipps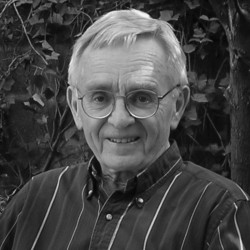 Date of Death: October 19, 2023
Date of Birth: August 23, 1930
Biography:
George William Phipps, 93, died peacefully on October 19, 2023, in Brunswick, Maine, surrounded by his loving family.
Born in 1930 to Lillian (Miller) and Laurence Phipps, George and his younger brother, Robert, grew up in Harrisburg, Pennsylvania.
George's life reflected his boundless curiosity and his many passions, including architecture, music, art, and hiking.
George began his university studies at Penn State, then served in the Army, stationed in Germany, followed by some studies in Austria, ultimately graduating from MIT. He earned his masters in architecture at Columbia, and had an architecture career in New York and Connecticut, designing numerous custom homes.
George and Cynthia Wilmot married in 1958. Over their years together they raised four children, living in Seattle, New York City and Winsted, Connecticut. After they parted ways, George hiked the Appalachian Trail, and then moved to Arizona, where he explored Arcosanti, learned massage therapy and volunteered as a docent at the Desert Museum. It was there that he met Margaret Joan Marchand, with whom he shared a fulfilling relationship for many years. He moved to Brunswick in 2001 where he was active in Write On Writers of People Plus, The Theater Project's Center
Stage Players and enjoyed many performances at the Bowdoin International Music Festival.
George is survived by his children and grandchildren: Andrea and Hank Tracy in Brunswick, Maine (Simon, Vivian); Alan and Maureen Phipps in Alexandria, Virginia; Martha and Ari Swiller in Los Angeles, California (Olivia, Annie, Jane); Erica Phipps and Charles Dickson in Ottawa, Ontario (Thomas, Eric, Audrey, Sophie, Will, Alex). He is also survived by his brother, Robert, and Diane Phipps in Ellsworth, Maine; and nephew, Gabriel Phipps, and Annie Salsich in Northampton, Massachusetts (Louis).
A private celebration of George's life is planned on November 25. Inquiries and condolences for the family can be sent to Andrea Phipps Tracy, 47 Board Road, Brunswick, ME, 04011 or andrea.p.tracy[at]gmail.com. Donations to The Theater Project, 14 School Street, Brunswick, ME 04011, in George's memory are welcome.