« Obituaries | Eva Rose Philbrook
Eva Rose Philbrook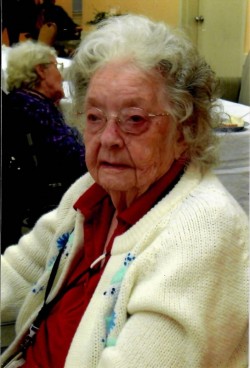 Date of Death: September 11, 2018
Date of Birth: February 22, 1922
Biography:
Eva Rose Philbrook, age 96 died on Tuesday, September 11, 2018 at Clover Manor.
She was born February 22, 1922, daughter of Hattie Bates and Ernest Rose.
She attended Greene schools and graduated from Leavitt Institute in Turner in 1939. The summer after graduation she worked for Sawyer Farms in their Greene ice cream stand. She worked for the Androscoggin County Probate office for 5 years. She joined Patrons Oxford Ins. Co., and worked as Date Processing 
Supervisor for 35 years, retiring in 1987. She made many friends in the insurance industry. After
retiring she joined the Greene Senior Citizens serving as president and secretary.
She was a member of the Baptist Church of Greene serving on many committees and boards over the years. She was active in the American Baptist Women's Group of the church. She served as trustee for 22 years for the Araxine Wilkins Sawyer Foundation and later as Asst. Sec. and bookkeeper. She was a trustee of the Julia Adams Morse Memorial Library for 29 years being on the original board who oversaw the building of the library. She enjoyed serving as ballot clerk for the town of Greene.
Her hobbies included quilting and made lap quilts for most of her relatives and friends.
She married Robert W. Philbrook in 1941 and together raised a son, Bruce who died in 1976. They had 64 happy years of marriage until the death of her husband in August 2005.
She leaves one grandson, Anthony Philbrook and his wife, Rita, two granddaughters, Pamela Syme and Bethany Philbrook, two great-grandsons, Robert Bruce Syme and Joshua Philbrook, one great-great-grandson, Kendrick Philbrook, a daughter- in-law, Sharon Philbrook, a sister-in-law, Patricia Rose and many nieces and nephews of whom she was very fond. She dearly loved her family. She was pre-deceased by her parents, a son, her husband, a son-in-law, Tony Syme, two brothers, Harvey and Linwood Rose, three sisters, Eleanor Harlow, Margaret Moulton and Helen Rose. She loved playing 13 with two good friends, Marion Additon and Barbara LaFontaine and Tri-ominoes with her cousin, Walter Bates. Her special neighbor, Mark Campbell was always there for her. Her friend Althea Gillis called her every evening around 5pm to make sure "all was well". That is true friendship. She was still active in her 90 plus years.
Many thanks to Clover Manor (Clare Unit) and Hospice for their excellent and compassionate care.
A memorial service will be held at 2:00pm on Saturday, September 15th at the Baptist Church of Geene. Burial will take place at a later date. In lieu of flowers, donations may be made to tThe Baptist Church of Greene, 102 Main St. Greene, Maine 04236.