« Obituaries | Edward Leroy Perry
Edward Leroy Perry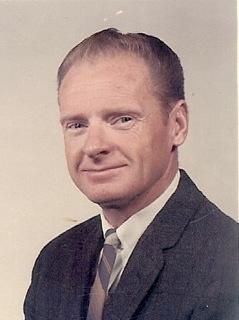 Date of Death: January 10, 2013
Date of Birth: July 16, 1924
Biography:
Edward Leroy Perry, loving father, talented athlete and esteemed educator, died peacefully on January 10th at the home of his youngest son Martin Perry in Brunswick, Maine, where he had made his home for the last five years.
Edward was born on July 16, 1924 in Vandergrift, Pennsylvania, the son of Mabelle Estelle Dunlap and Edward Martin Perry. He graduated from Butler High School, joining the Army Air Force in 1943 and serving his country during WWII as a radio operator and gunner at the level of Technical Sergeant. After the war, Ed went west and attended Sacramento State College, where he was a member of one of the college's first graduating classes, becoming a star on the inaugural "Sac State Hornets" basketball team. There he also met his loving wife Lorraine Bagdazian, popular student and member of the cheerleading squad. Lorraine predeceased him in 1973 after 24 years of marriage.
Ed was a long-time and extremely popular teacher at the Walnut Grove Elementary School in the Sacramento Delta area, awarded "Teacher of the Year" in 1973 for the River Delta Unified School District. An innovative and enthusiastic educator, he inspired the love of learning in many generations of students, and developed a dynamic sports program at the school that empowered athletes of all abilities.
Together, Ed and Lorraine raised three children: Tamara Perry Church of Pleasant Hill California, Charles Edward Perry of Carmichael, California and Edward Martin Perry of Brunswick, Maine, who mourn their loss and will always hold dear their memories of a father whose self-sacrifice, humor and love were an inspiration to all who knew him. Joining them in mourning his death are Tamara's husband Mike Church, Charles' wife Karen James Perry and Martin's husband Henry D'Alessandris. In addition to his children, Ed leaves his devoted granddaughters, Sara and Kelsey Perry, brother William J. Perry and wife Lee, brother-in-law Ted Bagdazian and wife Janet, and many loving nieces and nephews. He was pre-deceased by his sister Patricia Edwards and his brother-in-law James Edwards. Ed is also remembered by his second wife Gail L.Teague of Walnut Grove and her son Dion Teague.
A memorial service will be held at 2 pm on Saturday, March 2, 2013 at the Walnut Grove Community Presbyterian Church, 14120 Grand Avenue, Walnut Grove, California. In lieu of flowers, donations may be made in memory of Edward L. Perry to: Walnut Grove Elementary School Athletics, P.O. Box 145, Walnut Grove, CA 95690. Condolences may also be expressed at www.funeralalternatives.net