« Obituaries | Harold E. Perry Jr.
Harold E. Perry Jr.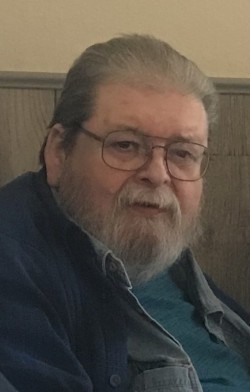 Date of Death: September 30, 2023
Date of Birth: August 31, 1953
Biography:
Augusta- Harold E. Perry, Jr., age 70, most recently of Augusta, passed Saturday, September 30, 2023, at Oak Grove Rehabilitation in Waterville, Maine. Harold was born in Waterville, Maine, at the "Old Sisters Hospital", August 31, 1953, to Harold "Tex" E. Perry, Sr. and Jeanette (Campbell) Perry, and grew up in the Ware/Gilbertville/Palmer/BelcherTown area of Massachusetts.
Harold was a storyteller, and there was much truth in each and every one of his stories, whether you believed him or not. His stories ranged from seeing and being chased by a creature in a field in Massachusetts, walking the train tracks to town and entering a bank with his hunting rifle, to loading trucks with tissue with his best friend, Mark Mijak. Harold's favorite memory was when he joined a barbecue being held in the Quabbin. He was bicycling around the Quabbin, when he came across a family gathering. Harold joined the line for a hamburger, then joined the gathering. As he sat at a picnic table, he was asked who he was, in true Harold style, he replied that he was a kid, and he was 8 years old. The next questions asked were wondering if he knew the family he was sitting with. Of course he did - Bobby, Teddy, and President John F. Kennedy! As you can imagine, Harold was soon escorted home, in a limo, by the security detail, and some of the family.
Harold considered himself to be a "Mill Rat" having worked in various mills around central Massachusetts and central Maine. When "Night Shift" was auditioning local folks for parts in the movie, Harold and his brother Richard decided to try out. Harold noticed that his paperwork had been set aside, in a separate pile. He laughed and said, he must not be good enough, but the assistant told him that was not true - he "was the pile" of people chosen. Harold did not take them up on the offer, as he had commitments at home and work (in a local mill).
Harold was predeceased by his parents, several aunts and uncles, sisters Joan Perry Dodge, and Mary Perry, and their partners.
Harold is survived by his wife Ann Russell, sister Alice (Carl) LaForte, brother Richard (Lori) Perry, sister Kianna (Nobby) Page and brother Robert Perry. Harold had many nieces, nephews, as well as several great nephews.
Graveside service at 11:00, Sunday, October 22nd, at Forest Grove Cemetery in Augusta, followed by a Celebration of Life to be held at the Viles Arboretum in Augusta.
In lieu of flowers, please make a donation to your favorite charity.
Arrangements by Funeral Alternatives in Augusta.