« Obituaries | Loretta Perry
Loretta Perry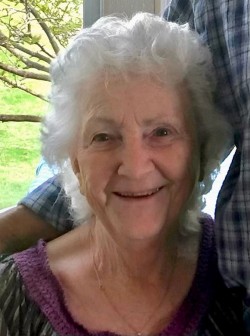 Date of Death: June 7, 2022
Date of Birth: July 22, 1932
Biography:
GREENE - Loretta Perry was a beloved wife, mother, grandmother, sister and friend during her remarkable 89 years of life. She passed away Tuesday, June 7, 2022, surrounded by her family.
Loretta lived to make lives better. She had a kind soul, a benevolent spirit and used her talents of sewing, knitting, crocheting, baking, gardening and canning to give back to those around her. Her husband would chuckle and say he knew he would never be a rich man because she gave away more than they could ever bring in. She frequently shared her homemade fudge, braided coffee cakes, pies, and fried rice (which her family and friends raved about). For several years, she volunteered at the Good Shepherd Food Bank and Community Little Theater where she received the President's Award in 2004-05. She was an active member of the Greene Baptist Church where she sang in the choir, taught Sunday School, and led Youth Group.
Loretta was happiest with her loved ones crowded around her dining table, enjoying a meal she had prepared. She became "Gram" to many as her home had an open door, no-invitation-needed policy which extended to the camp she and her husband built on Brettuns Pond. Her family was everything to her, as she was to them. She took great pride in watching her family grow. Her love and support knew no bounds. She was the glue that held her family together,  the matriarch. Holidays will be especially hard without her, but we will take comfort in remembering her  "I love you" at the end of every visit and phone call.
Loretta holds a special place in so many hearts. She will be forever loved and missed by those who survive her, her husband of 69 years Joseph "Art" Perry;  son, David Perry and partner Lorraine Hughes; daughter, Tammy and husband Rick Kramarz; grandchildren Veronica Sanouri, Mariah Schierer, Kelsey and Meagan Kramarz, Matthew, Tiffany, Heather, Chad, Chelsea and Lucas Perry;  sister, Marilyn Roberts;  twelve great-grandchildren; step-mother, Carol Pellerin and step-brother, Arthur Pellerin; many nieces, nephews, and in-laws; and life-long best friend, Dot Labrie.
She is predeceased by her parents Ovilda and Noreen Pellerin; sister, Jeanne Pomerleau; brother, Gordon (Buzzy) Pellerin; son, Robert (Bob) Perry; daughter in-law, Brenda Perry; and friend of 50+ years, Jane Chin.
The family wishes to thank the dedicated and caring staff at Fresenius Kidney Care Lewiston.
Family and friends are kindly invited to celebrate Loretta's life on Saturday, June 18, 2022 from 10am to 12pm and 2pm to 4pm at Funeral Alternatives, 25 Tampa Street Lewiston, Maine. Masks will be required.