« Obituaries | Theodore Perry
Theodore Perry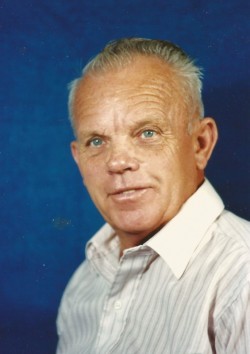 Date of Death: March 10, 2018
Date of Birth: April 15, 1922
Biography:
BUCKFIELD – Theodore "Ted" Perry, 95, of Buckfield passed away peacefully Saturday, March 10 at home with his loving family by his side.  

Ted was born April 15, 1922 to Leslie and Helen Lowell Perry of Hebron.  He attended schools in Hebron and Buckfield and in his young adult life worked with his father and grandfather on the family farm and drove the snowplow for the town of Hebron.  

He proudly served in the U.S. Navy during WWII and was involved in several different assignments in the Pacific Theater.  In 2016 he felt privileged to be part of an Honor Flight Maine visiting the monuments in Washington DC.

He married Lucille Child in 1944 and together they raised three children.  In 1956 they moved their young family to California where he completed his high school education in 1961at Antioch High School.  In California he made his living as a heavy equipment operator in the construction industry.  He happily retired in 1982 and was able to pursue his passion for woodworking.  He was a master craftsman and produced many fine pieces of furniture and wood products from "Grandpa Ted's Woodshop" which his family will treasure for many years.  

Ted had a lifelong love of music and played the guitar.  In his younger years he enjoyed fishing, hunting, square dancing and travel around the country and Canada.  At one point in his life he took flying lessons.  He loved his family and friends, had a keen sense of humor and could always bring a smile.

After forty-seven years of marriage, Mrs. Perry died in 1992. They lost a four day old daughter, Nora Elaine, in 1947.  He was predeceased by his mother in 1994 and his father in 1997.  He has also grieved the loss of three sisters and their husbands: Muriel and Bernard Record, Mary and Wade Harris, Flora and Bill Kieser and brother in law Edward Kosalski.

Ted is survived by his sister, Esther Judd and her husband Stanley who reside in Hebron and his special friend, Catherine "Kay" Saunders of Lewiston.  He will be greatly missed by his three children, Michael Perry and his wife Pat of Antioch, California, his daughter Carol Johnson and her husband John of Buckfield, and his daughter Nancy Bennett of Turner.  His survivors also include eight grandchildren, eleven great-grandchildren and two great-great granddaughters.  He is also survived by numerous nieces and nephews who adored him.

The family wishes to thank Androscoggin Home Care and Hospice for the excellent and loving care he has received from them for many months.  A memorial service is tentatively planned for June 2nd at 1 pm in Hebron at the East Hebron Baptist Church.  In lieu of flowers, donations are requested in his name to Androscoggin Home Care and Hospice at 15 Strawberry Ave, Lewiston, Maine 04240.