« Obituaries | Elizabeth Mary Pennington
Elizabeth Mary Pennington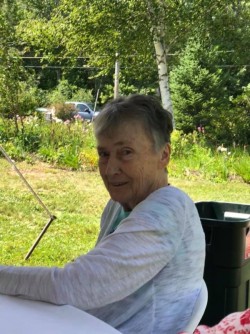 Date of Death: November 20, 2022
Date of Birth: December 28, 1942
Biography:
Elizabeth Mary Pennington (Betty), of Hartford, ME passed away peacefully at CMMC in Lewiston with her loving family by her side.
Betty was born in Brockton Massachusetts to her parents Ellsworth and Olive Spear. She grew up in Boothbay Harbor, ME where she graduated from high school and shortly after got married and started her family. 
Betty enjoyed spending time with her family and making new memories, she enjoyed laughing and making others laugh, such a sweet soul with sass! She also enjoyed going to Bingo, playing games, going to the casino, but most of all she enjoyed snacking on her ice cream and sweets while watching her reality, crime & game shows. 
She worked 20+ years for MCD at The Auburn Group Home and really enjoyed her work there! Before that she did mostly cleaning as well as nursing.
Betty is predeceased by her loving husband David Pennington as well as her son Stephen Pennington. She is survived by her son Andrew Pennington and his wife Tanya Pennington of Hartford, her daughter Erin Langlois and her fiancé Joshua Thibeault also of Hartford; her granddaughters McKenzie Turner of South Paris, Kasey Pennington, her boyfriend Max Haynes and their two children Pearce and Adriana of Peru, Hannah Turner of South Paris, Ashley Pennington and her fiancé Luke Malloy of Mechanic Falls, Kaylee Langlois of Hartford. Her Grands and Greats were her greatest treasures and they will live on to carry on her legacy, especially baby Adri and her Nana faces. She is also survived by many nieces and nephews. 
Her service will be held at Funeral Alternatives located on Tampa Ave in Lewiston, ME on Friday December 2nd at 1 pm, followed by a memorial gathering until 3pm. We ask that everyone wear a blue top (any shade of blue) she loved the color blue as much as she loved the ocean so we are hoping that as everyone sits for her service we will look like the waves in the ocean and give her just one more ocean view!