« Obituaries | Richard "Bones" Pendexter
Richard "Bones" Pendexter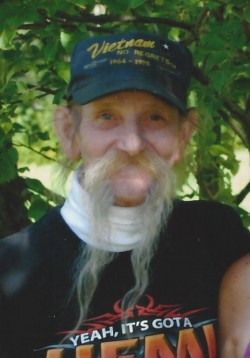 Date of Death: September 10, 2014
Date of Birth: July 26, 1946
Biography:
Richard W. "Bones" Pendexter, 68, passed away peacefully on Wednesday Sept. 10th, 2014.
He was born in Bridgton, Maine on July 26th, 1946 the son of Roger and Trudy (Koski) Pendexter.
Bones graduated from Bridgton High School in 1964. He served his country in Vietnam from1966 to 1968. On August 21st, 1977, he married Belinda A. Ward of Harrison, where they made their home and raised two children.
He retired from truck driving in 2008. His hobbies included hunting, fishing, ATVing, gardening, and especially loved "heater hunting and fishing" with his sidekick, "Garfield".
Bones is survived by his wife of 37 years, Belinda; his son Jason and his companion Julie of Harrison; daughter Kristen and her fiancé Shaun Hinkley of Oxford; four granddaughters, Ainsley, Elle, Kendyll, and Kaitlyn. He is also survived by siblings, Sherry, Mary, and Gary; and his nieces, nephews, and many friends.
He was predeceased by his parents and a nephew.
A celebration of life will be held at the convenience of the family. In lieu of flowers, donations in his memory may be made to Harvest Hills Animal Shelter, 1389 Bridgton Rd. Fryeburg, ME 04037, or Ronald St. John VFW Post 9328 PO Box 698 Harrison, ME 04040