« Obituaries | Robbin "Ziggy" Pelletier
Robbin "Ziggy" Pelletier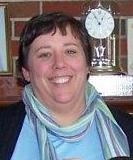 Date of Death: August 12, 2016
Date of Birth: December 5, 1971
Biography:
Robbin "Ziggy" Pinard Pelletier, 44, of Readfield, passed from this life Friday, August 12, 2016, after a valiant struggle with cancer. The daughter of Cheryl and Robert Pinard, she was born December 5, 1971 in Lewiston, Maine. She grew up and attended school in Sabattus, graduating from Oak Hill High School in 1990 as one of the top ten students of her class. While at Oak Hill, she was a cheerleader and participated in many activities, including ski club.
After graduation, Robbin attended the University of Maine, Farmington and studied to be a teacher of mathematics. She attended the University of NY, Potsdam for a semester as part of an exchange program. While at UMF, she met and inspired many people, both in the classroom and on campus, with her supportive personality and sharp wit. She was a member of the Pride Club and a proud resident of Abbott House.
As she began her career in education, she maintained her certification in math and also received her Master's degree in special education at the University of Southern Maine. She was hired to teach special education at Winthrop Middle School, and grew to love the community there. She bought a house, where she lived with her two rescue dogs, Reebok and Hannah. While there, she learned many lessons on home improvement with her father's assistance.
Soon after settling in Winthrop, she was introduced to Don Pelletier, with whom she formed a loving relationship. The pair were not ones to beat around the bush, and quickly knew that they were meant to be together. They lived in Winthrop for many years, and were married on September 20, 2002, in an intimate ceremony on Moosehead Lake.
After marrying, Robbin and Don built a house in Readfield near both of their families, a detail that was important to them. Their family grew as they welcomed their son, Tucker, on November 27, 2004. After the birth of her son, Robbin became a fiercely loving mother, both encouraging her son in various pursuits while teaching him to be a responsible, caring member of a family. During this time, she left the field of public education and began working at the Maine Parent Federation, providing resources and education to parents with students with special needs. Later, she worked as an Associate Academic Dean at Kaplan University in Augusta.
Throughout Robbin's cancer diagnosis and treatment, she was quietly courageous, which was an inspiration to her family and friends. Never one to complain, she continued to make holidays and celebrations special for her family with her supportive presence and upbeat attitude.
Robbin is survived by her equally courageous husband, Don Pelletier and their son Tucker, her parents, brothers Scott Pinard and wife Jaime, Rob Pinard and wife Liana, sister Lori Pinard and husband Butch, mother in law Louise Pelletier, brothers in law Michael Pelletier and wife Gayle, James Pelletier and wife Hollie and sister in law Christine Johnson and husband Shawn and many nieces and nephews. She was predeceased by her father in law Patrick Pelletier.
Although we have lost Robbin, her influence lives on through innumerable family, friends, and coworkers. We will continue to be inspired by her dauntless spirit and sharp sense of morality. The memories she has left behind will sustain us, make us laugh, and in the end change our view of our own lives for the better. In honor of Robbin, don't clean your house, instead, play with your kids, swim, bake, read, hug your dog. Allow her legacy to be one of fortitude, joy, and undying love of family.