« Obituaries | Ruth Bickford Peck
Ruth Bickford Peck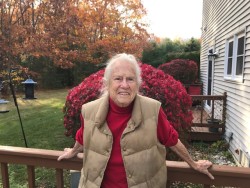 Date of Death: March 29, 2023
Date of Birth: November 20, 1927
Biography:
Ruth Edna Bickford was born in November, 1927 in Winchester, Mass, oldest child to parents Sarah (nee Cudmore) and Walter Bickford. She graduated from Lexington, MA high school in 1945 and Hickox Secretarial School in Boston in 1948.
She was predeceased by younger siblings, Louise Bickford and Robert Bickford (and his wife, Barbara).
Ruth married Charles B. Peck III on Sept 4, 1948 and they were together for 30 years. During those years, they lived in California, Switzerland, England, and Lexington, MA before moving to the MacKinnon family home in Topsham ME and finally settling down in Brunswick.
Ruth worked at educational institutions in California and Massachusetts before landing her dream job as the trade book buyer for the Moulton Union Bookstore at Bowdoin College. She retired as the manager of the department after 16 years of service.
Ruth loved learning, gardening, reading, birding, hiking, traveling, playing Scrabble and staying in close touch with family and friends.
She leaves behind four daughters, Nancy R. Peck of Vermont; Deborah R. Peck of Maine; Judith C. Peck of California; and Carol P. Robins of Maine as well as two sons-in-law and four grandchildren.
Ruth's children want to acknowledge and thank the staff at The Garden, Midcoast Senior Health. Though stubborn at times, they learned to love her and appreciate her humor and tenacity for life.
She truly believed in supporting charities concerned with health, politics, womens' rights and non-profits that benefited the state of Maine. To celebrate her generosity, please consider donating to a charity of your choice in her memory.
A ceremony of Life will be held at a later date