« Obituaries | Kervin L. Peabody
Kervin L. Peabody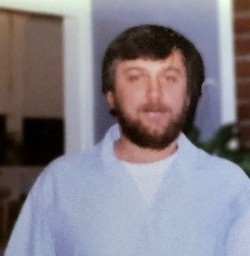 Date of Death: December 30, 2022
Date of Birth: October 18, 1959
Biography:
Windsor-  Kervin L. Peabody, 63, of Windsor, Maine, passed at his home in Windsor after a long illness.
Kervin was born on October 18, 1959 in Augusta Maine, the son of LuRoy Peabody and Carolyn Jackson.
He attended Gardiner School System.
Kervin was an over the road tractor-trailer driver for years. He loved working on vehicles such as mechanical work, restoration, including painting them.  He loved sneaking off with his wife Nancy, heading up North to go camping, hunting, and sightseeing for the wildlife. Snowmobiling as well.
Kervin had a big heart very generous guy. Helping anybody out, no matter what he was doing himself or who it was; even a total stranger. Kervin had the kind of personality he could get along with anyone. He loved joking, especially teasing his brothers. Most of all he thoroughly loved teasing his wife Nancy just as much!
Kervin was predeceased by his parents; father LuRoy Peabody, and mother Carolyn Jackson, 4 siblings; sister Maida Peabody, brother Larry Peabody, brother Ronnie Peabody, and sister Buffy Peabody.
He is survived by his Wife of 31 years Nancy J Peabody, children son Kervin Dowdy, son Joseph Swift, daughter Andrea Veilleux, son Steve Peabody, and son Eric Peabody.  He is also survived by his siblings; brother Bobby Peabody, sister Ina Cadwallader, brother Mike Peabody, sister Tammy Abbott, brother Shawn Peabody, and brother Scott Peabody, as well as several grandchildren, nieces and nephews.
Kervin will be sadly missed by his Wife Nancy, family & friends.
A Celebration of Life will be held in the Spring. Notice of Celebration will be posted at a later date.
Condolences may be expressed at www.funeralalternatives.net