« Obituaries | Lorretta M. Parsons
Lorretta M. Parsons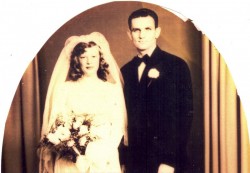 Date of Death: March 10, 2012
Date of Birth: August 4, 1929
Biography:
FREEPORT -- Lorretta M. Parsons, 82, of 3 East Street, Freeport, passed away peacefully Saturday morning, March 10, 2012 surrounded by family and staff at Freeport Nursing Home.
Mrs. Parsons enjoyed flowers and spending time with her husband of 57 years, Richard, whom always brought her roses and planted gardens of colorful perennials and annuals for her. Loretta loved going out to eat with Richard at various restaurants all over Maine and so adored day trips with her husband up and down the Maine coastline, seeking out new harbors and gift shops off the well-beaten tourist path. Loretta loved sitting on the rocks at Land's End, Bailey Island, watching the waves while laughing as her husband fed the seagulls.
Mrs. Parsons was a devoted wife, mother, and grandmother, and cherished her friendships over the years with wonderful ladies at Bowdoinham Estates, Mountainview Estates, Broadmoor Drive in Cumberland, and loved the 'family that brought the world in to her' at Freeport Nursing Home and Rehabilitation.
She is survived by her son Richard Jr., daughters Bonnie and Tammy and their spouses; three grandchidlren, three step-grandchildren; four great-grandchildren (with one more on the way).
A celebration of life and co-burial for both Richard and Loretta is planned later in the spring. In lieu of flowers, donations may be made in her memory to the charity of your choice as she and Richard had several they supported.