« Obituaries | Thomas F. Parnell
Thomas F. Parnell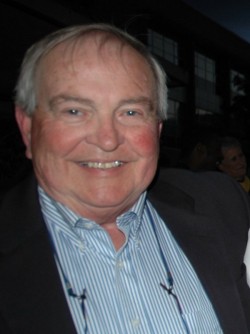 Date of Death: May 4, 2018
Date of Birth: July 28, 1940
Biography:
BRUNSWICK – Thomas Francis Parnell, born Somerville, MA on July 28, 1940, the son of Robert A. and Margaret (Manning) Parnell, died on Friday, May 4, 2018 in Portland at Maine Medical Center. Tom grew up in Cambridge and attended Cambridge Latin School and Trinity-Pawling for high school before attending Tufts University where he obtained a degree in History and PolyScience. In 1967 he married Polly Smith and together they shared almost 51 years of marriage.

Tom worked for House Speaker, Tip O'Neill, in the 60's, then Eastern Airlines in the early 70's. In 1978 he and Polly moved to Brunswick. He worked at BIW, retiring in 1997, and moved into Human Resource Consulting.

Tom held a lifelong passion for hockey, playing on the state championship team (1958) for Cambridge, and continuing to play at Trinity Pauling and Tufts. He coached youth teams for more than 4 decades in both Mass and Maine. He was an avid golfer and could be seen on the course at Brunswick as frequently as possible. Another passion was reading: he was never without his Kindle!

In retirement Tom and Polly enjoyed travelling, venturing to England, Ireland, Scotland and Spain, always with his golf clubs in hand.

In addition to his wife of nearly 51 years, Tom leaves his daughter, Amy Lekstutis (Matthew) of Rocky River, OH, and his son, Christopher (Sarah); 4 grandchildren: Abigail, Jessica, Colin and Allison Lekstutis, two step grandchildren: Alexis and Garrett Compton; as well as many nieces and nephews. He was predeceased by his brother, Jack (Josephine) Parnell, and his sister, Sally (William) Cusick.

Contributions in Tom's name can be made to Firsttee.org or St. Jude's Children's Hospital, two causes he was passionate about.

A Celebration of Life will be held June 10th, details to follow. The family asks that people bring a favorite photo of Tom enjoying life or a brief vignette.