« Obituaries | Judith Colwell Parker
Judith Colwell Parker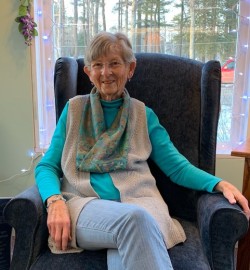 Date of Death: October 1, 2022
Date of Birth: June 14, 1938
Biography:
On October 1, 2022 Judith Colwell Parker, died unexpectedly at home. Born on June 14, 1938 to William and Isabel Hobbs Colwell and raised in Hampton NH, Judy graduated from Hampton Academy where she made many lifelong friends. She went on to graduate from Westbrook College, where she learned superb organizational and administrative skills and developed one of her favorite mottos: "A place for everything and everything in its place". After graduating, Judy got her first job at Nichols Corporation where she met the love of her life, John Parker.
Judy lived in Brunswick for 60 years, where she and John raised four children and Judy worked at First Parish Church as the Executive Administrator and ran the show until her retirement. She was detail-driven, organized and "seriously task-oriented". Away from work, she enjoyed owning racehorses, planting and caring for her flower gardens, knitting for her family or those in need, reading, cooking and listening to music. One of her greatest passions, and where she met many of her friends, was through traveling. She and John spent many winters traveling by car to Tucson, Arizona and to Florida, with stops in Las Vegas and other spots to visit friends and family. They also travelled with John's siblings and spouses all over the world. One of her favorite travel destinations was Virgin Gorda, BVI, but her favorite spot of all was the family cottage in Sebasco Estates, where she and John enjoyed countless beautiful sunsets and created wonderful memories on Maine's rocky coast with their siblings and their spouses, children, grandchildren, nieces and nephews, and many friends.
Judy was passionate about animals from a young age. She developed a lifelong love of horses through her father, who often took Judy and her sister Taylor riding with him, and introduced them to a variety of animals on their farm. She continued her appreciation of animals her entire life and the family always had a variety of pets.
Judy was genuinely interested in learning all about the people in her life, asking questions and remembering details that were shared with her. Whether at her children's or grandchildren's activities, as a Cub Scout den mother, or as a member of her sorority or knitting group, she enjoyed the company and friendship of those around her. Even in her later years, she was adept at technology and appreciated how it allowed her to interact with people near and far.
One of Judy's favorite pastimes was being "Nana." At the time of her passing, she had seven grandchildren and one great-grandchild, and she loved to talk with them, hear about their lives, and receive photos and videos of them that she could then share with her friends.
In her time at Sunnybrook Assisted Living, she was loved by the staff and was a staunch advocate of the residents, helping friends in need and welcoming newcomers so they would feel at home.
Judy was predeceased by her husband of 56 years. She is survived by her sister Taylor Lydiard; her four children, John and his wife Karen of Brunswick, Susan Wild and her husband Mark of Brunswick, Sarah and her husband Alan Leclerc of Las Vegas, NV, and William and his wife Carol Anne Raffa of Philadelphia, PA. She is also survived by her grandchildren Alex Coulombe (Alivia), Caroline Wild, Parker Wild, Quinn Coulombe, John Parker, Henry Parker and Jonas Parker, as well as great-grandson, Owen Coulombe.
A memorial service will be held on November 5 at 11:30 a.m. at First Parish Church in Brunswick, Maine. In lieu of flowers, donations may be made in her memory to Mid Coast Hunger Prevention Program or Midcoast Humane Animal Shelter, both in Brunswick.  Arrangements are in the care of Funeral Alternatives. Condolences may be shared at FuneralAlternatives.net