« Obituaries | Walter F. Parker
Walter F. Parker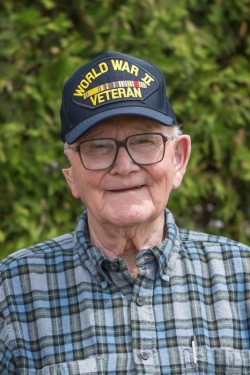 Date of Death: July 8, 2017
Date of Birth: August 8, 1921
Biography:
LISBON FALLS- Walter F. Parker, 95, a resident of Frost Hill Avenue, passed away on July 8th, 2017 at home in the care of his loving family. The son of Clarence and Mary (Moses) Parker, Walter was born at "The Parker Homestead" in Durham Maine on August 8th, 1921, and lived there with his family until moving to Lisbon Falls in 1967.
The youngest of 11 children, he attended Durham Schools, and Lisbon High School.
He was a WWII veteran, serving in the Signal Corps as a truck driver in New Jersey, Louisiana, and the European Theater.
Walter married his sweetheart, Blanche Bourgoin on March 23rd, 1943 in Durham.
Following his father's footsteps he did shoe repair (W.F. Parker shoe Repair) in Lisbon Falls, and later in his own home. He also worked as a cloth inspector for the Worumbo, and J.P. Stevens Mills.
He was a member of The Lisbon Historical Society, American Legion Post #66 and a member of Shiloh Church in Durham.
His hobbies included polishing his cars and stopping for snacks along the way on his many road trips with his wife and kids, and also with special friends.
Walter is survived by his four children, Nancy and husband Vic Bouchard of Brunswick, Carolyn and husband Dr. Alex Norzow of Bowdoin, Glenice and husband Gary Green of Turner, and son Richard Parker and wife Bonnie of New Boston, NH. He is also survived by 10 grandchildren, 10 great grandchildren, and 7 great great-grandchildren, and many nieces and nephews. Also surviving are sister-in-law Gerry Parker, and Sister-in-law Cecile Wiley and husband Bill.
The family wishes to extend special thanks to all his friends at Bill's Auto, Get and Go, and to John Quimby. Also, many thanks to his neighbors for their unconditional love, and selfless acts of kindness.
Services will take place at Shiloh Chapel in Durham Maine. Memorial visitation will be held on Saturday, August 19th, 2017 from 4-7pm. A memorial service will be held Sunday August 20th, 2017 at 2pm. Internment immediately following memorial service