« Obituaries | John Parker IV
John Parker IV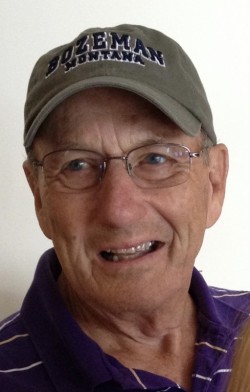 Date of Death: October 6, 2016
Date of Birth: April 19, 1932
Biography:
BRUNSWICK - John Parker IV passed away on October 6, 2016 from complications from lymphoma, after a rapid decline in health. He was surrounded by his loving family and kept his sense of humor until the end.
John, affectionately called "Jobu" first by his grandchildren and then by everyone who loved him, lived a joyful and 'glass-half-full' life of 84 years, and shared his gracious and jovial spirit wherever he went. He was adored by anyone who knew him, and cracked jokes at any opportunity, sometimes even when it wasn't very appropriate.
John was born in Hanover, NH on April 19, 1932, the son of John Parker III and Virginia Musk Parker. His family moved to Bath, Maine during his childhood, and he was a proud graduate of Morse High School, Class of 1949. John, as his older and younger brothers would do, attended Philips Exeter Academy for a post-graduate year and then went on to graduate from Dartmouth College in 1954, where he excelled at basketball and baseball. After serving in the Army for two years, John received his MBA from Columbia University.
John went to work at Nichols, Inc., where he met his sweetheart, Judith Colwell.
Rumor has it that her parents weren't impressed with him at first, when he showed up in his snazzy blue blazer, but he eventually won them over and Judy and John were married in January 1960. They embarked on their first adventure immediately, moving to Cuxhaven, Germany to work for Nichols for two years. When they returned to the States, John started work at Bath Iron Works as Comptroller, a position he held until 1977 when he left to purchase Maine Surgical Supply Company with his younger brother Gerry. John went on to buy Lopez & Church, an office supply company in Portland and finished out his career back at BIW as Vice President of Management Information Systems. While he would admit that he knew nothing about technology, he did love people: he made sure to say good-bye every day to the women in the secretarial pool, something they told him no manager had ever done. John befriended everyone he worked with; if "nice guys finish last", then he was at the very back of the pack.
Through the years, John had many interests outside of work. He coached youth baseball, was active at First Parish Church in Brunswick, serving in leadership roles and on committees, taught Managerial Accounting at SNHU, was a mentor to several Brunswick High School students, an alumni interviewer for Dartmouth and served as President of the Brunswick Golf Club.
After his retirement, John continued his community involvement by helping organize and start Oasis Health Network in Brunswick, which provides free health care services to those with limited means. He also served on the boards of Faithworks in Lewiston and the Funeral Consumers Alliance of Maine. He and Judy enjoyed traveling all over the world and made many friends during their winter stays in Tucson and Florida.
One constant in John's life was the family cottage in Sebasco, Maine. Starting when he was a boy and continuing until his death, his extended family met each summer at their beloved spot to swim, sail, windsurf, play cards, golf and enjoy each other. It was the glue that held the family together and he loved it like no other place.
John was known for his competitive spirit, a direct inheritance from his mother. There was nothing he loved more than a good cribbage game, but he enjoyed competition of any kind: all sports, horse racing, card games. One of his favorite things to do was take a trip to the casino with friends. The trade-off for his partaking in games of chance was that if he came back with more than he left, Judy would get half the winnings to "sock away" for their future travels. John was fine with this arrangement, loving the process of playing and the social interaction more than counting his profits. He was an avid golfer and especially loved playing with his sons, nephews and grandsons.
John loved watching his grandchildren compete. In true Jobu fashion, he could be found on the sidelines yelling encouragement and instruction not only to his own grandchildren, but to any other player that he felt needed his expertise. All of his grandkids' friends, with no exception, loved him and called him "Jobu".
John left a lasting impression on most people, but no one was more impacted and influenced than his grandchildren: Alex Coulombe, Quinn Coulombe, Caroline Wild, Parker Wild, John Parker VI, Henry Parker, and Jonas Parker. He filled them with enough love and wisdom to last a lifetime, and he knew that a part of him would live on in them forever.
John is survived by his loving wife of 56 years, Judy; his sons John V (Karen) of
Brunswick and Bill (Carol Anne Raffa) of Philadelphia, his daughters Susan Wild (Mark) of Brunswick and Sarah (Alan Leclerc) of Las Vegas, his seven grandchildren, his sister Virginia Parker Domhoff of Brunswick, his sister-in-law Carolyn Colwell Lydiard of Crab Orchard, KY and many beloved nieces and nephews.
He was predeceased by his two brothers, Everett and Gerry.
A million years of Jobu wouldn't have been long enough for us.
A memorial service will be held at First Parish Church in Brunswick on Saturday, October 29th at 11:00 a.m., followed by a reception at the church.
In lieu of flowers, donations may be made to Oasis Free Clinics, 66 Baribeau Drive,
Brunswick, Maine 04011, or Midcoast Hunger Prevention Program, 12 Tenney Way, Brunswick, 04011.