« Obituaries | Jeannette L. Parise
Jeannette L. Parise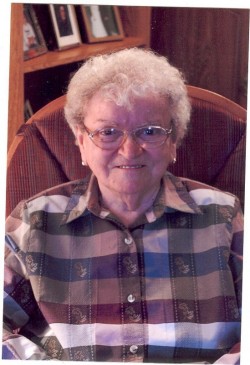 Date of Death: March 6, 2012
Date of Birth: June 19, 1924
Biography:
AUBURN – Jeannette L. Parise, 87, of Auburn, passed away on March 6th, 2012 at St. Mary's Hospital.
She was born on June 19th, 1924 in Lewiston, the daughter of Napoleon and Delina (Gagne) Hamel.
Jeannette attended local schools and at age 62 received her diploma from Lewiston High School.
After her marriage to Joseph Parise, they moved to Sabattus to raise their family. She was a homemaker and cared for her special son who gave her great joy.
Her pastime was crossword puzzles, playing cards, bingo, and most of all --- her handmade quilts that her family enjoyed. She enjoyed traveling and seeing the country with her son.
Survivors were her two daughters, Joan and husband Ray Guerin of Abbot, Linda and her husband Carl Harrington of Livermore; grandchildren Amanda and her husband Michael Labonte of Lewiston, Cynthia and her husband Craig VerColen of Mass., Chris Guerin of Monmouth, Devin Harrington of Portland, Tara Harrington of Winthrop, Brian and wife Jocelyn Harrington of Biddeford, Carl Harrington II of New York; great-grandchildren Ashlee Labonte of Lewiston, Morgan Guerin of Mechanic Falls, MacKenzie Guerin of Monmouth, Jake and Alex VerColen of Mass.; great-great-grandchildren Jakobe Weekes of Lewiston, Karl and Konnor Harrington of Biddeford; and sister-in-law and friend Blanche Hamel of Lewiston. She was predeceased by her parents; husband Joseph Parise; son Michael; her beloved sister Irene Janas; brothers Ralph, Leo, Maurice, Robert, and Roland Hamel.
The family will have a private service in the spring. Donations may be made in her memory to the Social Learning Center, 80 Strawberry Avenue, Lewiston, ME 04240