« Obituaries | Barbara M. Pappin
Barbara M. Pappin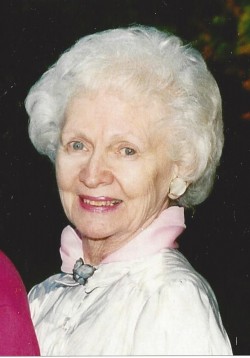 Date of Death: April 21, 2015
Date of Birth: October 9, 1915
Biography:
BRUNSWICK - Barbara McCain Pappin died in Brunswick, Maine on April 21, 2015 at the age of 99. She was born Barbara Edith McCain to Edith and J. Seward McCain Jr. on October 9, 1915 in Jersey City, New Jersey and lived most of her life in New Jersey. The 25 years she lived in other states included a life-saving 7-year sojourn in California where she was treated at UCLA in 1992 for stage IV colon cancer. She remained NED (no evidence of disease) for 22 years until her death. The last four years of her life she was cared for lovingly at The Garden, the dementia unit of Mid-Coast Senior Health Center.
Richard Pappin, her husband for 60 years, died in October 2001. She is survived by her daughter, Linda Pappin of Brunswick, Maine and her son, Steven Pappin of Cape Elizabeth, Maine as well as two stepgrandchildren and two stepgreat-grandchildren. Her sister, Janet Preston of Canandaigua, New York, her brother, J. Seward McCain III of Palo Alto, California, and a special friend, Tom Bush of Topsham, Maine, also predeceased her.
Barbara worked as a medical secretary at Columbia Presbyterian Medical Center in New York - at the Neurological Institute and the Departments of Medicine and Ear, Nose and Throat. She was passionate about music and especially 4-part acappella harmony. For more than 30 years she sang as a baritone with Sweet Adeline choruses and in her own barbershop quartet, the "Happy-Go-Luckys." She also sang in her church choirs and was active in Eastern Star.
A memorial service will be held at Mid-Coast Presbyterian Church, 84 Main Street, Topsham on Friday, May 15 at 2:30 PM.

In lieu of flowers donations in her memory may be sent to Mid-Coast Presbyterian Church, Box 211, Topsham, ME 04086.