« Obituaries | Theresa G. Paladino
Theresa G. Paladino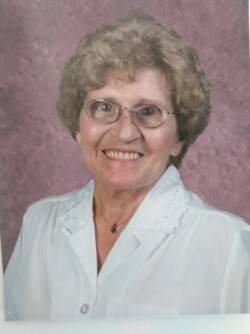 Date of Death: May 5, 2022
Date of Birth: July 31, 1938
Biography:
Theresa Ouellette Paladino passed away peacefully surrounded by her family. She was born in Lewiston, Maine on July 31, 1938, the daughter of Bertrand and Gertrude Jolicoeur Ouellette.
She was educated at Mont Notre Dame in Sherbrooke, Canada, and at Ave Maria in Sabattus, Maine, graduated from St. Dom's, Lewiston Maine, in 1956, and also graduated from the School of Commerce.
She lived in Lewiston, Auburn, Maine all her life, enjoying going to the ocean, beaches and picnics. The family bought a farm in the early 80's and enjoyed raising a variety of animals, and working a large garden, which she enjoyed canning, freezing, drying, and sharing with the family. She also enjoyed doing a variety of crafts and was also an avid reader.
She was predeceased by her loving husband of 28 years, Henry N. in May 2008, a son Anthony on February 2018, a grandson Matthew on March, 2007, and a brother Guy Ouellette.
She is survived by her daughters Angela McFerren of Auburn, Anita Egan of W. Brookfield, Mass., Andrea Rodrigue and husband Jim of Lewiston, and Anna Rodrigue and husband Steve of Livermore, Maine, and a stepson Henry Paladino Jr., and wife Paula of Lewiston, brothers Andre Ouellette and wife Gwen of New Jersey, and Maurice Ouellette of Tennessee, and his four children, Maurice Jr., Marc, Marie, and Mitch and cousins.
She is also survived by 11 grandchildren, Carrie McFerren, Tiffany Lessard, Hannah Lefebvre, Bridget Ethier, Katie Connolly, Sarah Lord, Nicole Segerson, Tyler Paladino, Aaron Paladino, Casey Paladino, and Tanner Paladino; and 12 greatgrandchildren, Brandon, Lexi and Cassidy Lessard, Logan and Avery Ethier, Emily James Connolly, Anthony, Lily and Emma Lefebvre, Luna, Lucy and Enzo Lord.
There will be a private internment at Mount Hope Cemetery in Lewiston so she can then be with her beloved husband and son, at the convenience of the family.