« Obituaries | Celista A Page
Celista A Page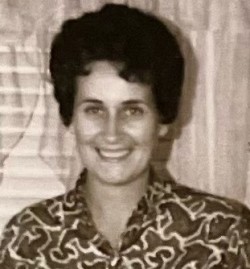 Date of Death: March 28, 2022
Date of Birth: January 7, 1935
Biography:
Celista A. Page, 87, of the Gardiner Road, Wiscasset - known by many as 'Citta,' - died peacefully with her family and caregivers by her side on Monday, March 28th at Gray Birch Rehabilitation.
Citta was born, January 7th, 1935 in Bath, Maine, the third daughter of Lester A. Savoie and Irene Place Savoie. As a child, Citta spent much of her childhood with her beloved Grandmother Atwood, whose home was just a hop, skip, and a jump from her own, and was a place of joy - with her grandmother's pet canary, potted African violets, and always open doors. They shared a love for cooking and together Citta learned many of the recipes that she would cook for a lifetime. 
Citta recounted playing hopscotch with her friend Mary Wright, ice-skating on Goddard's Pond, playing hockey with sticks and rocks, and the long walks to and from Catholic school and Morse High. As one of five children, Citta looked after her younger siblings, which likely fostered many of her life long traits of nurturing those she loved, looking out for the underdog, and creating a place of joy for those around her.
Citta would later marry Oscar Page and have a daughter, Sharon Ann Page. As a family they raised horses and watched Sharon compete in horse shows at the county fairs. For years they never missed a fair. Citta passed along her love for cooking to Sharon, and together they made the most delicious breads, biscuits, chowders, and cakes.   
Citta helped support her family by working within the home, waitressing at Davis Island Restaurant in Edgecomb, and performing the books and accounting for Oscar's contracting business. She and Sharon helped her mother, Irene, and sister, Madelyn, make it to family gatherings, planned excursions to places like Acadia National Park, attended nearly every local parade and festival, and enjoyed weekly trips to Goodwill to find the next great bargain.
Throughout her life, Citta loved to host family and friends at her home and plan family outings. During any given weekend in the winter, Citta and Oscar would plow off the pond and groom the trails in preparation for snowmobiling, sledding, and ice skating parties with their close relatives. Almost every holiday, relatives throughout Maine would gather in her home. Each Easter, Citta would motivate her family to trek to Popham beach in rain, snow, or shine to walk the beach, fly kites, and explore the forts as she once had. Popham would remain her happy place and she would continue walking the beaches with her dogs long into her seventies.
Citta was predeceased by her husband, Oscar Page of over forty years, and her sisters Natalie Simmons & Madelyn Anderson. After Oscar's untimely death, Citta had to start making her way on her own. At age 61, she learned how to operate a plow and on mornings when it would snow, she would be up before dawn plowing and sanding the hill to her apartments. 
Anyone who knew Citta, knew she loved animals beyond end. She made her property of 30+ acres a place of refuge for all animals. During hunting season she was known to chase hunters off her land, and pee on the apples they used as bait. In the Fall, she took great joy in watching hundreds of Canadian geese take harbor in the two ponds on her property and mingle with her 20+ domestic geese. 
Citta had a remarkable number of beloved pets over the years. When she was in her 60s, Citta decided having rottweilers for pets was a good idea. She would feed her pups from her hands when they were young to encourage good behavior. And on any given morning she'd make her pups the same breakfast as her own – peanut butter toast and a cup of coffee. One of Citta's last joys in life was watching a squirrel visit her bird feeder outside her window so faithfully refilled by her granddaughter, Vanessa, and the caring staff at Gray Birch.
Citta is survived by her daughter Sharon Page, her granddaughter Vanessa Broga, her grandson, Jason Soule, her four granddaughters: Hanna & Emma Broga and Maya & Margot Boni Soule; her sister, Irene Plant and her brother, Lester Savoie and multiple generations of nieces and nephews. 
The entire family would like to thank MaineGeneral Hospice and the staff at Gray Birch for the exceptional care they bestowed on Citta. Even during such trying times, you found ways to show Citta how much you cared. Because of you, Citta retained her dignity to the end.
In Lieu of Flowers, please consider making a small charitable donation to Midcoast Humane to support and honor Citta's love for all animals.  If donations are not possible, please take a moment to show an animal some extra kindness as Citta would, by simply filling your bird feeder, taking your pet for an extra walk, or planting a native plant or tree for our wild friends to call home.