« Obituaries | William "Bill" Pabst
William "Bill" Pabst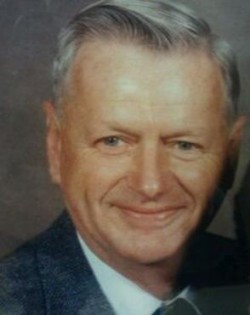 Date of Death: February 6, 2014
Date of Birth: July 3, 1928
Biography:
William (Bill) Pabst passed away at 4:15 Thursday morning, February 6, 2014, at the St. Mary's d'Youville Pavilion nursing home in Lewiston, Maine.
Bill was born on July 3, 1928, in Jersey City, New Jersey.  His parents were Viola (Renner) and William B. Pabst.  He graduated from Cheltenham High School in Elkins Park, Pennsylvania and attended Temple University in Philadelphia, PA.  Bill was in the Civil Air Patrol when he was in high school during World War II, where he flew on over 30 missions searching for German U-Boats.  Later he was a Sargeant in the U.S. Army at the beginning of the Korean War and served time in Austria, where he was in an elite counter-intelligence unit.
Bill's business career centered on selling, primarily in the Corfam Division of duPont, where he spent 17 years.  Upon retirement, he spent several years as a school bus driver and then teaching Driver's Ed for high school students.  During his school bus driving time he adopted a stuffed penguin which he named "Opus."  At that time he showed the students his penchant for being a Joker.  They held competitions to see who could take Opus home in the evening.  When he drove the high school football team to games, he had a red carpet to welcome them back on the bus.  All the kids loved him.  Eventually he was teaching some classes in the schools and got many kids into pursuing animal studies.
Bill was always involved in community service; in his youth, Bill was an usher in his church; Bill was a serious Little League coach when his son was young, and he was a Deacon in several churches.  In addition, Bill was an avid fisherman and loved to travel with his Airstream trailer.
Bill was pre-deceased by his first wife, Joyce, and daughter, Linda, and is survived by his second wife, Patricia, and daughters, Marcia Gower and Karen Pabst Framnes, and son, Chip Pabst.  He also leaves son-in-law, Kjell Framnes, grandchildren, Darcy Pabst, Heather Pabst, Corey Gower, Justin Martinez, Olivia Framnes, Wendy Younk, Michelle Hale and Chrissy Ames and great-grandchildren, Abigail Pabst, Cora Younk, Sara Younk, Nicholas Hale, McKenzie Ames and Logan Ames; his stepchildren, Patricia and her husband, Gary Fecteau, James J. McKeown and wife, Peter J. and wife Inday McKeown, Paul G. and Wife Tish McKeown, and Donald M. and His wife Robyn; and 12 step grandchildren Tammy, James, and Christie Fecteau, Peter James, Louis, Mathew, Dillan, Suzanne, Sarah, Katie Jason and Aaron Mckeown; and also his former daughter-in-law, Elma A. Mckeown.
A special Memorial (Celebration of Life) Service will be held for Bill at 3 p.m., Sunday, February 9, 2014, at Greene Baptist Church, 102 Main Street, Greene, Maine 04236.
The family has requested, in lieu of flowers, that donations can be made to the Greene Baptist Church, where Bill was a Deacon; or, to Avian Haven, http://www.avianhaven.org/ (a New England based bird rehabilitation center for wild birds).  Bill loved birds, often feeding them and creating safe havens for them.