« Obituaries | Benito Ortolani
Benito Ortolani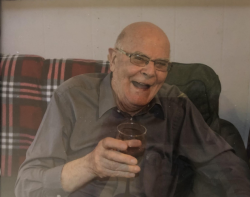 Date of Death: May 10, 2022
Date of Birth: August 18, 1928
Biography:
AUBURN-Our beloved Papi, Benito Ortolani, danced up to heaven to be with the angels on May 10th 2022.

Benito was an esteemed professor, scholar and author in the fields of Japanese Theater, Theater History and Luigi Pirandello. He taught at Sophia University in Tokyo, University of Hawaii, Columbia University in NYC, Brooklyn College and CUNY. An educator, prolific writer and fastidious editor in several languages including: Italian, English, German and Japanese. He was chairman of the Theater Dept at Brooklyn College from 1976 until his retirement. He maintained an optimistic, diplomatic, wholistic and holy attitude always.

Born in Rome, Italy, on August 18, 1928, he was the youngest of ten children. He is survived by his two loving daughters: Laura Lee and Cristina, eight grandchildren (Jonnathan, Beverly, Mark, Emilee, Lisa, Melissa, Dante and Daniel) and two great grandchildren. He is predeceased by his wives Marcia and Maria, and his son Bruce.

Come celebrate his wonderful life of 93 years on June 11, 2022 at 1:00 pm at St James the Apostle church at 14 Gleneida Ave, Carmel Hamlet, NY 10512.

To honor his great love of dancing, theater and children, the family respectfully asks in lieu of flowers donations may be made to the Dancing Angels Foundation (www.dancingangelsfoundation.org) or the Country Childrens Center scholarship fund. (www.countrychildrenscenter.org) Rsvp to Cristina Ortolani 914-500-3449 Cvortolani@gmail.com