« Obituaries | Roy Anthony Ordway
Roy Anthony Ordway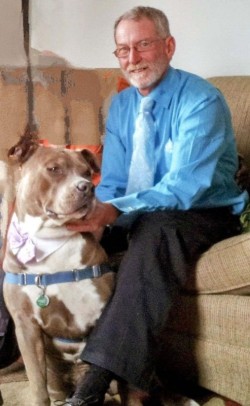 Date of Death: July 25, 2023
Date of Birth: July 1, 1956
Biography:
Bath – Roy Anthony Ordway passed away on July 25, 2023. He was born in Brunswick on July 1, 1956 a son of Ruth and Vesper Ordway .
Roy went to school in Bath until 1970 when he moved to Falmouth and Graduated from Falmouth High School in 1975. In 1975 he began working for construction companies until 1980 when he went to work for Sagadahock Real Estate Association. He worked at SREA
until August 2005 when we went on our adventure. Roy returned to Bath and SREA in 2012 where I worked until the end of 2020 when SREA shut down. Roy was self employed until he got sick.
Roy loved Bath and everything that made it such a great place to live in with its bustling, vibrant
downtown that has all mom and pop stores and functions as a year round city. He was very proud to have been a part of the ongoing revitalization that continues today.
Roy is survived by husband Kermit A. Patterson, his brother Derrill Ordway of Rochester, NH, his sister Connie Boyle of Sun City AZ, sister Shirley Gilman of Falmouth Maine, brother Leonard Ordway of Las Vegas and many nephews and nieces.
Roy was predeceased by parents and brothers Victor, Denis and Scott.

If you are able, please make a memorial contribution to the Bath Area Food Bank. It's a great
organization that helps many people in our community without restrictions.
Thank you to Dr, Amy Etzwieler of MidCoast medical group as well as the entire MidCoast
Health staff who helped me over the past years and especially the last 7 months.
A big thank you to CHANS Hospice and their staff members who made me comfortable over the
past couple months.