« Obituaries | Dawn E. Orcutt
Dawn E. Orcutt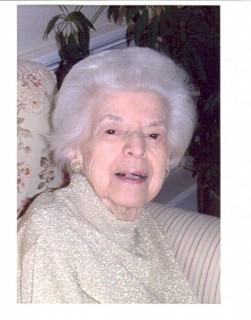 Date of Death: November 25, 2010
Date of Birth: September 2, 1912
Biography:
Dawn Elizabeth Orcutt 1912-2010
Dawn Orcutt, 98, passed away peacefully at the Hospice House in Auburn on November 25th .She had lived at Schooner Estates in Auburn since 2001. Prior to that she had lived in Millinocket for many years with her cousin Madeline and Charles Roop.
She was born on September 2nd, 1912 in Ashland, Me., the daughter of Clarence and Ella (Baston) Orcutt. She graduated from Ashland H.S. and attended Bates College for 3 Yrs in the class of 1933.
Dawn taught school in Ashland and then worked for u.s. Civil Service from 1941-1954 at The Pentagon, living in Washington D.C . She moved to New York City and was the executive secretary of The Housing Security Inc. until retiring and moving to Millinocket in 1975. She loved living in N.Y.C. and had many happy years there. ln Millinocket she worked for The Katahdin Times and was an active member of St. Andrews Episcopal Church.
Dawn was a fun-loving person and had many friends where ever she lived. She enjoyed talking on the phone and keeping in touch with family and friends. She loved cats having had many, and enjoyed playing Bridge, Scrabble, cooking and was an avid reader with 2 or 3 books going at all times. She loved being around people and sharing stories and her "jokes of the week" from Millinocket. She loved her apartment, friends, staff and food at Schooner Estates.
She is survived by many cousins and friends who kept in touch with her, among them are cousins Virginia, Steve and Vicky Richardson, Lois and Spencer Main, Cliff and Joyce Cunningham, Marge Coffin, Mike and Sally Ordway, David Roop, Joe and Jolene Roop and Mary Jane and Marty Roop all of Maine. Cousins Jim Coffin and Francis Bowman of Massachusetts and New Hampshire and Phil and Beverly Cunningham of Washington . She was known to two younger generations of cousins ( many who kept in touch with her) as "Aunt Dawn"
She was predeceased by her parents, many cousins and her special cousin Madeline Roop.
Sincere appreciation goes out to the very wonderful caregivers of Schooner Estates Assisted Living for their kindness and care shown to Dawn. Also to the Hospice House caregivers who made her last days comfortable and peaceful.
NOTICE
ORCUTT Dawn, 98, of Auburn, passed away on November 25th, 2010 at the Hospice House. Services to be announced at a later date and will be held in Millinocket. In lieu of flowers any donations may be made to St. Andrew's Episcopal Church in Millinocket Maine, or Hospice House 236 Stetson Road, Auburn, Me. 04210