« Obituaries | Alfred F. Obie Jr.
Alfred F. Obie Jr.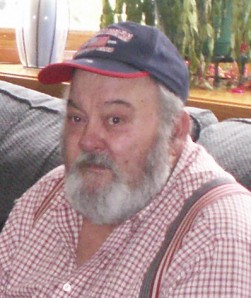 Date of Death: July 10, 2012
Date of Birth: October 16, 1940
Biography:
AUBURN-Alfred F. Obie JR., 71, of Monmouth ME, passed away Tuesday, July 10th, 2012 at the
Hospice House in Auburn, ME.
He was born in Lewiston on October 16th, 1940, to Alfred F. and Marie R. (Desmarais) Obie. He served in the Seabees in the U.S. Navy from 1957 to 1961. Alfred was active in both the American Legion Post 210, and Mason's Tranquil Lodge.
He enjoyed the outdoors, hunting and fishing. He loved to tinker in his shed and break things just to put
them back together. He really loved to cook, barbecuing with his "famous" sauce, and cooking crepes for family breakfasts. He enjoyed spending time with his family. Alfred worked at pioneer plastics for seventeen years, and retired from the post office in Lawrence MA in 2003. He also did roofing off and on for most of his life.
He is predeceased by his parents; a granddaughter, Bethany Parker; and a stepdaughter, Tammie Curtis.
Surviving him are his loving wife of 34 years, Flossie (Libby) Obie;5 children, Daniel Obie and wife
Rhonda, Bonnie Beaulieu, Jeffrey Obie, Jennifer McWilliams and husband John, all of ME, and Tina
Obie and fiancé Mike of MA; his ex-wife Bernice Brooks of ME, a step daughter Heidi Francis of ME, a
sister Marie Tancrel, and her husband Normand of ME; 18 grandchildren; 7 great grandchildren; and numerous cousins, nieces and nephews.
A committal service will be held on Saturday July 14th, 2012, 1pm at Gracelawn Memorial Park 980
Turner Street Auburn, ME.
In lieu of flowers, donations may be made in Alfred's memory to Androscoggin Homecare and Hospice 15 Strawberry Avenue Lewiston, ME 04240