« Obituaries | Helene Simonne O'Brien
Helene Simonne O'Brien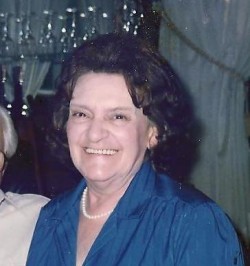 Date of Death: June 5, 2010
Date of Birth: June 3, 1928
Biography:
HELENE S. O'BRIEN 
1928-2010 
AUGUSTA -  Helene "Simonne" S. O'Brien, 82, of  Meadow Rd, died Saturday morning, June 5th, 2010, at Maine General Medical Center, after a courageous battle with a brief illness. 
She was born in Lewiston on June 3, 1928, the daughter of James and Eva (Goulet) Auger. 
She was employed by Bates Cotton Mill in Lewiston where she worked for 16 years before retiring to stay home with her children. 
Simonne enjoyed life, and loved spending time with her family and friends.  She will be dearly missed by all that knew her. 
She is survived by two daughters, Patty Matthews of Augusta and Kathy Walker and husband, Greg, of Winthrop. Two sisters, Irene Boisvert and husband Maurice of Lewiston and Anita Marshall and husband Bob of New York; One sister in-law, Sheila Dion and husband Dick of Mass.  Five grandchildren, Marty Matthews and wife Shana of New Gloucester; Angela Viola and husband Vinny of Winthrop; Michael Nelbach and Lisa Maxim, of Augusta:  Jennifer Nelbach of Winthrop; Jeff Matthews and wife Feather of Monmouth; Seven great grandchildren,  Kara Viola of Winthrop; Darius Dunn of Winthrop; Romeo Rizza of Winthrop; Shamus Matthews of Monmouth; Ezekiel, Noah and Corbin Matthews of New Gloucester; as well as several nieces and nephews. 
She was predeceased by the love of her life and husband of 54 years, Martin O'Brien;Three brothers, Roland Auger; Lucien Auger; and Romeo Auger;  Six sisters, Blanche Wright, Jeannette Caron; Marguerite Auger, Lucille Auger, Olivette Auger and Muriel Auger;  One sister in-Law, Eileen Collins;  One great-grandchild, Adam Matthews. 
Simonne was married to Martin O'Brien on June 21, 1952 and will be reunited with him on Monday, June 21, 2010 at 2 pm at the Maine State Veteran's Cemetery in Augusta Maine.