« Obituaries | Judith M. Norton
Judith M. Norton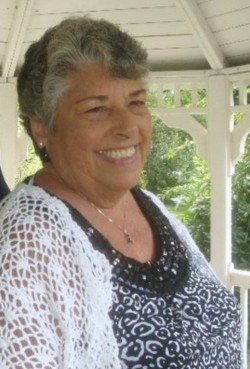 Date of Death: July 5, 2017
Date of Birth: August 15, 1940
Biography:
BRUNSWICK - Judith M. Norton, 76, of Brunswick died on Wednesday, July 5th, 2017 in Portland, Maine.
She was born in Lewiston, Maine on August 15th, 1940, the daughter of Alfred L. and Margaret L. (Parker) Gillis.
Judith was educated at Leavitt Institute in Turner Maine where she began her career in bookkeeping. She worked most of her life as a bookkeeper, finishing her career at the Brunswick Police Department after nearly 20 years of service.
Judy enjoyed shopping of any kind, antiquing, cooking, playing cards and Upwords, and sewing. She was an accomplished quilter, and also an avid home canner. She loved traveling with friends and family, especially to Florida, Hawaii, and Sicily. Judy also loved camping; she would go anywhere you could get a motorhome or trailer, and especially enjoyed her time camping in Lancaster County, PA, and at Winslow Park, Freeport, and Boothbay Harbor. Judy was a bluegrass music fan and attended festivals all over the Northeast. Judy especially enjoyed her late winter motorhome trips to Florida to visit friends and family.
Judith was predeceased by her parents, Alfred and Margaret Gillis, her first husband, Merle Thompson, her great-grandson Isaac Gabriel Benjamin, and her mother-in-law, Edith Norton.
She leaves behind her husband, Clinton L. Norton III of Brunswick; her daughter, Dianne Thompson of Pownal; a son, A. Scott Thompson of Freeport; a son, Michael Thompson and wife Sue of Freeport; a sister, Althea Gillis of Greene; seven grandchildren, Jenn, Nicole, Parker, Zach, Alex, Austin, and Amelia; four great-grandchildren, Jake, Colby, William, and Julia; cousins, Elizabeth "Betty" Sweetser and Charles Gillis; and several nieces and nephews.
At the request of Judith and her family, there will be no services, a private get together will take place at a later date.
In lieu of flowers donations may be made in Judith's memory to the National Law Enforcement Officers Memorial Supporter Services, 901 E Street, NW, Suite 100, Washington, DC 20004 - 2025, or the American Diabetes Association, P.O. Box 15829, Arlington, VA 22215.