« Obituaries | Siri Norman
Siri Norman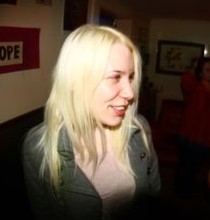 Date of Death: November 15, 2021
Date of Birth: June 1, 1991
Biography:
On November 15, 2021, the soul of Siri Norman, 30, of Litchfield, Maine joined the universe. She was born June 1, 1991 in Waupun, WI to parents Steve and Linda Norman.
Siri loved spending time at the ocean, listening to loud music, and all things pink and Hello Kitty. She was a woman of many talents with a beautiful singing voice, masterful tech and cookery skills, and a great sense of humor.
Siri was a brilliant, shining light who will be deeply missed by the many who loved her. Her care and compassion for others will live on in our hearts.
She is survived by her close friend and room-mate, Devon McElroy; her mother, Linda Norman; her father Steve Norman; her stepmother Melora Norman; siblings Jessima Ranney and Phoebe Norman; grandmother Anita Norman; grandparents Lewis and Jean Turco; cherished aunts, uncles and cousins; and her much-loved cats Luna, Meeko and Norman.
Services will be announced at a later date. In lieu of flowers, donations may be made in her memory to the Greater Androscoggin Humane Society, 55 Strawberry Ave, Lewiston Maine 04240.