« Obituaries | James M. Newell III
James M. Newell III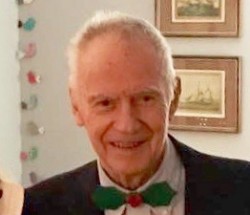 Date of Death: July 1, 2018
Date of Birth: November 14, 1933
Biography:
BRUNSWICK - James M. Newell III, 84, of Brunswick, Maine, husband of Margaret (Wells) Newell, died July 1, 2018 at Horizons Living and Rehabilitation Center. Born November 14, 1933, in Boston, MA he was the son of James M. Newell Jr. and Rives Stuart Newell.

He grew up in Chestnut Hill and attended Phillips Exeter Academy (1951), Harvard University (1955) and after two years in the Army, Massachusetts Institute of Technology, where he earned a Masters in Aeronautical Engineering in 1959. He and Margaret were married on September 6, 1958. He worked at Sikorski Aircraft Company and AVCO Corp, where his proudest professional achievement was working on the Apollo heat shield. In 1969, the family moved to Wayne, NJ where he worked for Curtiss Wright, EBASCO, GEC and Breeze Eastern. He retired to Brunswick, Maine in 2010.

Jim acquired his love of sailing from his childhood summers at Lake Sunapee, NH. He later became an avid kayaker along the coast of Maine, where he and his wife summered with their family. During his college years he was a member of the Harvard Mountaineering Club and in 1954, he and several others made a first ascent of Mt. Ida in British Columbia. He continued to enjoy hiking and the outdoors for the rest of life.

His personal relationship with Jesus led him to a life of service. While in NJ, he served on the vestry and as a warden at St. Michael's Episcopal Church in Wayne. He was also a member of Gideons International, and was a board member for Camp YDP, an afterschool program for underprivileged children in Paterson.

After moving to Maine, he served on the Missions Committee and in the choir at Water of Life Lutheran Church. He was a board member of Community Housing Improvement Project (CHIP, INC.). Finally, he was particularly passionate about his involvement with Kairos, a prison ministry at the Maine State Prison in Warren.

He is survived by his wife Margaret, a son, J. Blake Newell of Lowell, MA, and daughters, Susan N. Hinck (Karl) of Damariscotta, ME and Alice N. Yoder (Derek) of North Collins, NY. He is also survived by his grandchildren, Elizabeth, James, David, Daniel and Sarah Newell, Patrick McGowan and Otto Hinck, Katherine, Rebekah, Joel and Owen Yoder. He was predeceased by his brother F. L. Stuart Newell and daughter-in-law, Janet L. Newell.

A memorial service celebrating his life will be held July 6, 2018 at 11 a.m. at Water of Life Lutheran Church, 618 US Route One Newcastle, Maine.

In lieu of flowers, donations can be made to Kairos, PO Box 578, Auburn, ME 04212 or CHIP, INC. PO Box 6 New Harbor, ME 04554.