« Obituaries | Theresa Nadeau (Bard)
Theresa Nadeau (Bard)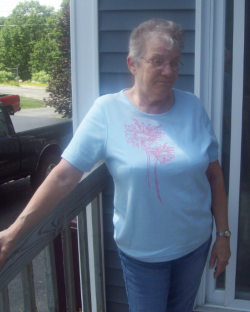 Date of Death: March 15, 2017
Date of Birth: January 20, 1940
Biography:
Theresa Nadeau (Bard), 77, "Tessie", passed away at Androscoggin Hospice in Auburn on March 15, 2017 with family by her side.  She is pre-deceased by her grandparents Victorie and Delia Bard, parents Harold and Elsie Clark, brothers Warren (Butch) Clark, Gary Clark, and sister Pam Lewis, uncles Roland Bard, PFC Joseph Bard (passed in WW2), Willard Bard, Thomas Bard, and aunt Eva Plourde.  She is survived by her three sons Keith Walter and his wife Tina of Bowdoinham, David Walter and wife Faith of Poland, and Dwayne (Bug) Walter and his wife Jodi of Auburn, her brothers Joseph Clark of Leeds, Paul Clark of Lewiston, Roger Clark and wife Debra of Auburn, sister Helen Melanson and husband Ted, aunts Jeanette (Bee) Bard of Fort Kent, Bernadette (Bernie) Bouchard of Augusta and Florida, and good friend Polly Jackson of Fort Kent.  She is also survived by eleven grandchildren and several great grandchildren living in Maine and Massachusetts.
Tessie will be remembered as a determined, proud, strong and loving mother who raised three boys on her own and was infinitely proud of the men they have become and the families they shared with her.  She was a generous, caring and compassionate woman that was always thinking of others.  Her last employment was at Personal Onsite Development in Auburn where she cared for people with disabilities before her retirement.  In retirement she enjoyed spending time with her family, crossword puzzles, reading, and social media.  Fittingly her last post was an Irish Proverb "A good laugh and a long sleep are the two best cures for anything". 
Tessie lived at home with son Dwayne and his wife Jodi, grandsons Devin, Dalton and "the girls" (their beloved Boston Terriers Maggie and Annabelle) until her illness sent her to the hospital February 26 and eventually to Hospice on March 13.  During this time her family remained at her side and Tessie continued to show her fighting spirit, compassion for others and sense of humor.  In her last days she was still worried about her boys, providing pep talks to the daughter-in-laws and joking with her caregivers.    
Tessie will be greatly missed by family and friends but, respecting her wishes, the family will not be having memorial services.  Her remains will be returned to her home in Fort Kent as her final resting place later this year.  The family wishes to extend their thanks to the staff at Central Maine Medical Center and Androscoggin Hospice for the excellent and compassionate care they provided.  In lieu of flowers the family requests donations be made to the Androscoggin Home-Care and Hospice 236 Stetson Road Auburn, Me 04210.