« Obituaries | Raymond L. Murray
Raymond L. Murray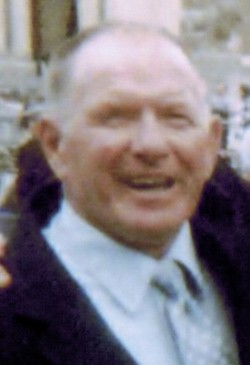 Date of Death: January 24, 2015
Date of Birth: July 25, 1932
Biography:
Raymond L. Murray, 82, formerly of Fayette, died peacefully with his family by his side on January 24th, 2015 at St. Mary's d'Youville Pavilion in Lewiston.
Born on July 25th, 1932 in Mechanic Falls, he was the son of Paul A. and Floris C. (Hartford) Murray.
On March 6th, 1953 he married Frances Bachelder of Wiscasset and set up house in Boothbay busily raising six children. He worked most of his life for Mass. Laborers Union Local 327. He enjoyed hunting, fishing, camping, coin collecting, flea markets, digging clams, and spending time with family.
He is survived by his wife, Frances Murray of Wiscasset; 3 daughters, Samra Nay and husband Clark of Mechanic Falls, Debbie Main and husband Neal of Boothbay, and Kammy Sargent and her husband Mark of Lisbon; 3 sons, Jody Murray and wife Ann of Boothbay, Raymond Murray and wife Dawn of Suffolk, VA, and Dale Murray and wife Heather of Madison, WI; 2 sisters, Doreene Sargent of Mechanic Falls, Barbara Gilliam of Lewiston; 1 brother Paul Murray (has since passed away); 10 grandchildren; 8 great grandchildren, and also his longtime faithful companion, Madeline Babbidge of Wiscasset.
He was predeceased by 3 sisters; Arlene Dostie, Pauline Hagen, and Shirley Simmons; and 1 brother, Robert Murray.
The family would like to thank the staff at d'Youville and Androscoggin Homecare and Hospice for their loving, compassionate care Raymond received while residing at d'Youville
Graveside services will be held at Gracelawn Memorial Park at 980 Turner St. Auburn, Maine on June 13th, at 1:00pm. In lieu of flowers, please make donations in Ray's memory to the  Alzheimer's Association, Maine Chapter 383 US Route One, Suite 2C, Scarborough, ME 04074