« Obituaries | Beverly B. Murphy
Beverly B. Murphy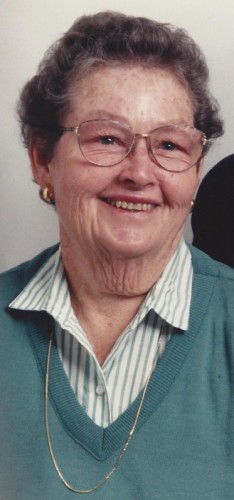 Date of Death: July 5, 2014
Date of Birth: March 26, 1928
Biography:
Auburn-Beverly B. Murphy, 86, of the Berry Rd., Hartford, passed away on July 5, 2014 at the Hospice House.
 She was born on March 26, 1928 in Hartford, the daughter of Raymond and Ethel Berry.  She grew up on her parents dairy farm.  Bev graduated from Leavitt Institute in Turner.
On October 23, 1948 she married Earl H. Murphy Jr., at her parents home.  They were married over 60 years. They resided and raised their family in Mexico for over 32 years.  She worked at the Mexico Public Library for 7 years and was a cafeteria aide at Mexico High School for 9 years.
 Bev was an assistant Girl Scout and Cub Scout leader. She was actively involved with Mexico Congregational Church and later with Hartford Community Church when they moved back home.  She was also involved with town politics- comprehensive plan, road committee, helping E911 and cemetery committee.
She enjoyed her dogs, going to companion and obedience shows all over New England.  Bev loved all the local kids and enjoyed being mom to all the extra kids brought home to visit.  The past few years she enjoyed genealogy and researching the family history of both sides.
 Bev was predeceased by her parents, her sister Janet who lived on hour and husband Earl.  She is survived by her children Eileen Gondron of Texas, Jeffrey Murphy and wife Joyce of Strong, Maureen Murphy of Hartford, brother in-law Larry Murphy of Rumford, sister in-law Beverly Beeler of South Portland, grandchildren Chris Gondron of Texas, Brandy Hayes and husband Adam of Texas, Megan West and husband Billy of Texas, Heather Huish and husband David of Wilton, Darby Murphy of Hawaii, Mariah Bentley and husband Dakota of Rumford, great grandchildren Alexis, Tori, Zoe, Gretchen, Chase, and soon to be born Brody.
 A celebration of life will take place Friday, July 11th at 11am at Hartford Community Church, Church St. In Hartford.  Refreshments to follow at the church.
 In lieu of flowers donations in Bev's memory may be sent to: Androscoggin Home Care and Hospice Foundation 15 Strawberry Ave. Lewiston, Me 04240 or Hartford Community Church P.O. Box 460 Canton, Me 04221.
 Arrangements are under the care of Funeral Alternatives Group 25 Tampa St Lewiston, Me 04240.