« Obituaries | Earlene Louisa Murphy
Earlene Louisa Murphy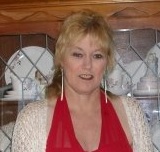 Date of Death: October 31, 2018
Date of Birth: October 14, 1949
Biography:
Earlene Louisa Murphy, 69, of Lewiston, ME, died in Lewiston early Oct. 31,
2018.
She was born in Rumford, ME., Oct. 14, 1949, the daughter of Earl F. Hickey and
Blanche (Kilbreth) Hill.
She attended school at Pinkerton Academy in Derry, NH. She married William J.
Medairos and they had two children before divorcing.
She found the love of her life, Carl G. Murphy, who passed away in 2008. They
spent many happy years together and had a son together.
Earlene loved dancing and frequented Sock Hop dances. She loved horseback riding
and showing hounds at various dog shows.
She worked in assisted living facilities for many years before opening her own
in Tyne Valley, PEI, Canada, Carl's home town.
She was predeceased by her father, Earl, and husband, Carl.
She is survived by her recent companion, Fred Chubbuckk, of Lewiston, ME; her mother, Blanche, of Lewiston, ME.; children, William F.
Medairos Jr. and his wife Mondia, of Derry, NH; Donna M. Arsenault and her
husband Joseph, of Livermore Falls, ME; and Shane B. Murphy and girlfriend Rae
Ann Doiron, of Hunter River, PEI, Canada; step-son Vaughn Murphy of Warren, ME;
step-son Dale Murphy of Colorado; a brother Peter Hickey of Dade City, FL;10 grand children, two great grand children
and two nephews.
A celebration of life will be held in the cafeteria area of the Area Youth
Sports building located at 25 Cedar St., Livermore Falls, ME (the latest
Livermore Falls High School) on Tuesday, Nov. 6, 2018, at 2 p.m.
In Lieu of flowers, donations may be made to the American Diabetes Association
in remembrance of Earlene.