« Obituaries | Etta Lorraine Muller
Etta Lorraine Muller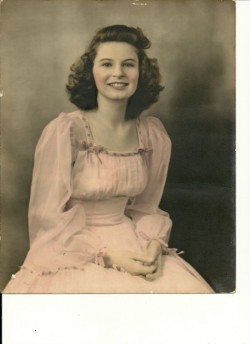 Date of Death: October 27, 2013
Date of Birth: July 3, 1925
Biography:

E. Lorraine Muller, 88 of Brunswick died on October 27, 2013 at Thornton Hall. She was born to Guy and Etta Smith on July 3, 1925 in Easton,  Pa.  She was predeceased by her husband of 53 years Lt. Commander John G. Muller.
Lorraine graduated from Easton high school and soon after began her long life as a navy wife.  With husband "Shorty" she ran the "Maples Bed and Breakfast" in Bowdoinham, Me. They spent many years wintering in Destin, FL. She had a fulfilling position as a real estate associate with Helen Lord in Brunswick.
Lorraine will always be remembered for her love of family.  Seeing her grandchildren always brought an ear to ear smile to her face.  She was our family matriarch keeping us all together by keeping us current on each other's lives.   At 86 yrs. of age she mastered the iPad and played Scrabble with her daughter every day.

She loved cooking and was always investigating new recipes right up to the very end!  She made a mean bloody mary that no one in the family could duplicate.

And oh how she loved beauty!  She loved to be surrounded by the beauty of flowers - especially daffodils! Her weekly calendar included socializing  especially playing bridge three times a week and attending Friday night happy hours.  While wintering in Florida she delighted at the beauty of the beach and the ocean as well as dancing. 

Survivors include her children J. Diane Varra (John) of Allentown, PA, John J. Muller (Jennifer) of  West Hartford, CT, Robert N. Muller (Judith) of Harpswell, ME and Mary Ann Wilson (Greg) of Bowdoinham, ME, 8 grandchildren, 11 great-children and 1 great-great child.
Her grandchildren are Adam Muller(Sharon) of Clayton, SC and Kyle Muller (Gina) of Boulder, CO. Gregory Wilson (Beth) of Topsham, ME; Spenser Wilson (Kelly) of Brunswick, ME and Elizabeth Muller of Harpswell, ME. She had three-step grandchildren: Michelle White, Rachel Varra, Daniel Varra all of Allentown PA.
Her great grandchildren are Dustin, Paetra, Heidi,  Addison and Peanut Muller all of Clayton, SC. ; Rya, Scarlet and Elijah Muller of Boulder, CO.  She had three step great-grandchildren: Giavanna Varra, Leila Varra, and Khairi White, all of Allentown, PA.
She has one great-great granddaughter, Paisley Muller of Clayton, SC.
A Catholic mass will be held at 1 pm Thursday at St. Charles Borromeo Church, 132 McKeen St., Brunswick, ME.
Contributions: made to American Heart Association.