« Obituaries | Dana Melvin Mulholland
Dana Melvin Mulholland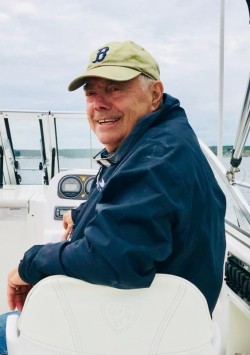 Date of Death: September 22, 2023
Date of Birth: June 26, 1945
Biography:
SOUTHPORT, ME - Dana Melvin Mulholland of Southport, Maine, passed away while surrounded by his loving family on September 22, 2023. Dana was born on June 26, 1945, to Cora (Winters) Mulholland and Edward ("Ned") Mulholland in Waterville, Maine, and graduated from Waterville High School in 1963. He was an accomplished high school athlete, playing quarterback and point guard for the Panthers. Dana attended the University of Maine (Orono), where he continued his football career as a defensive back and played on UMaine's historic 1965 Tangerine Bowl team, which remains the only UMaine team ever selected to play in a bowl game. Dana was also a proud and distinguished member of the Kappa Sigma fraternity at UMaine, where he developed lifelong friendships that endure.
Dana fell head over heels for Jane Hilton in middle school and they married shortly after graduating from college in 1968. After earning a master's degree in physical education from the State University of New York at Cortland in 1970, the couple returned to their Maine roots. Dana joined his father-in-law, David Hilton, in the lumber/hardware business, at Proctor & Bowie in Winslow. In 1973, Dana's love for coaching and mentoring young adults drew him to his long-term profession. Dana and Jane moved to Lewiston in 1973 when Dana accepted a position teaching physical education at Lewiston High School, where he also coached football and swimming & diving for the Blue Devils.
During that time, Amy, Robert ("Rob"), and Katherine ("Katy") were born. Dana was a loving and dedicated father. Whenever his schedule allowed, Dana coached his children's youth and scholastic sports teams - and he made it a point to be home in time for dinner. As generous with love as he was with praise, Dana was incredibly proud of his children.
For more than a decade, during his summer breaks while teaching at LHS, Dana served as the caretaker, handyman, and concierge at Log Haven Camps on Great Pond in North Belgrade, Maine. His family had the amazing experience of spending summers on the lake with incredible friends because of his hard work tending to the docks and boats, maintaining ten cabins and the surrounding grounds, and attending to the needs of vacationers from all over the country.
Dana began his transition to college coaching in 1978 when he joined the football staff at Bates College in Lewiston. This was the first step in a long career in the Bates College athletic department. He quickly rose to the position of Defensive Coordinator of the football team and held that position until 1991. Dana's presence on the Bates College campus expanded in 1988, when he was hired as the first full time head swimming & diving coach at Bates, a position he held from 1988 to 2008. As a swim coach, Dana earned Coach of the Year honors from his peers in the NESCAC conference, New England Swimming & Diving Association, and nationally in NCAA Division III.
In addition to coaching, Dana was an integral part of the leadership team for the Bates athletic department, first appointed to the position of assistant athletic director, then associate AD, and finally acting AD in his last year on the staff in 2010. In his last act as a member of the staff, he led the search committee to find his own replacement, a task he took to heart as he wanted to ensure a steady hand was ready to grab the wheel.
A passionate educator and inspirational leader, Coach Mul was honored to serve the men and women that he coached and is remembered as a cherished mentor, life-coach, and friend by hundreds of athletes. His passion was palpable, and his love was given, freely with no reservations.
Dana was also an accomplished boater and was an active member of the Down East Yacht Club where he served a term on the Board of Directors and as Publicity Chair for more than a decade. As with all his other pursuits, the true joy came from the relationships that grew from shared experiences. Dana loved hosting DEYC socials at his home. The more, the merrier.
Dana and Jane moved to Southport Island when he retired in 2010. Dana was a skilled carpenter and fearless do-it-yourselfer who helped build their home and never stopped customizing it with his creative touches. An artist in many ways, Dana was as deft with a pen as he was a hammer. His poems were clever, his toasts were touching, and his words were always heartfelt. Dana's final resting place will be on Southport Island, near family and friends. At Dana's request, a celebration of life will be held in the summer of 2024. Details of the event will be shared when a big enough venue is secured to ensure that all who loved him can be in attendance.
Dana is survived by the love of his life and wife of 55 years, Jane Mulholland; daughters Amy Spelke (and Jon) and Kate Roy (and Paul), and son Rob Mulholland (and Heather); and his four grandchildren Max Spelke, Cora Spelke, Lily Mulholland, and Molly Mulholland, whom he adored. He is also survived by his sister Susan Lohnes (and Barry) and brother Bill Mulholland.
In lieu of flowers, please consider a donation in Dana's name to: Mid Coast Hospital www.midcoastparkviewhealth.com/giving (designate gift for the ICU in honor of Dana Mulholland); the Boothbay Region Ambulance Service (https://www.brasems.org/donate); or the Southport Fire Department at 437 Hendricks Hill Road, Southport, Maine 04576.