« Obituaries | Jerrie Mae Mulherin
Jerrie Mae Mulherin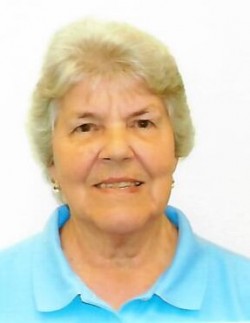 Date of Death: March 8, 2022
Date of Birth: October 18, 1938
Biography:
Jerrie M. Kendall Mulherin
In the early morning hours of Tuesday, March 8, 2022 heaven gained a new angel, a
most deserving honor for Jerrie.
Born October 18, 1938 to Burton and Margurite Kendall, Jerrie grew up in the Augusta
and Gardiner area. She graduated in 1957 from Gardiner Area High School, where throughout
her four years there, she excelled at softball, cheerleading, and half-court basketball. She loved
the many friends she made in school and when she and her friends started getting together
again in their 60s each summer for annual visits, they had t-shirts made proclaiming them "The
girls of '57."
In 1958 Jerrie met Dan, the love of her life. The two of them spent 64 years together
with 61 % of those years as a married couple. Together they raised three daughters and then
were able to watch their three granddaughters growing up. There were many trips to Santa's
Village and StoryLand, the beach, the ice capades, plays, dance programs, music productions,
and athletic events. It was rare if Jerrie and Dan weren't at these events for their daughters,
granddaughters, and great granddaughters. You could always count on them.
Jerrie held many different positions during the course of her working career. She started
as a teller at Gardiner Savings Bank, worked as a school secretary in Litchfield, worked in the
office at Frank X Pomerleau, the Monmouth Town Office, and then gave 25 plus years of service
to Leeds Central School as the school secretary. At Leeds Central Jerrie made many life long
friends.
In later years, Jerrie discovered a love of quilting with her friend Dorna Davis. She made
quilts for everyone in her family, something we all love and will cherish. She was also a member
of The Red Hatters, Ruby Gems group. She loved the get-togethers and outings the group went
on and especially loved being able to spend time with her friends, Terry Cloutier and Bev
Phillips.
Our hearts are broken as we mourn the loss of our mother, grandmother, sister, friend,
and wife.
Jerrie is survived by her husband Dan of Monmouth, her three daughters: Susan and
husband Tom Hall of Auburn, Laura and husband Bruce Albert of Williamsburg, VA, Elizabeth
and husband Dennis Durant of South Paris. Granddaughters: Courtney and her husband Tom
Smart of Sanford, FL, Karen Johnson and great granddaughters Lyla and Amelia of Auburn,
Jennifer Johnson and her husband Wally of Ocala, FL, and Colleen Albert and her partner Cole
Rowland of Windham. She is also survived by her brother Paul Kendall and wife Lily of Augusta,
sister Nancy Mcintosh and late husband Frank of Utah. Sisters-in-law Patty Mulherin LeBlond
and Paula Mulherin, plus many nieces and nephews.
She was predeceased by granddaughter Paige Albert, sisters Joyce Openshaw and
husband Louis, Sireta Demo and husband Jerry, sister-in-law Peggy Marston, brother-in-law Jim
Mulherin, brother-in-law AI LeBlond and brother Jim Kendall and his wife Lise..
In lieu of flowers donations can be made to Camp Sunshine at Sebago Lake, Maine. A
memorial service will be held on Thursday, April 7 at 2PM the United Church on Main Street in
Monmouth Maine.