« Obituaries | Sarah Mortensen
Sarah Mortensen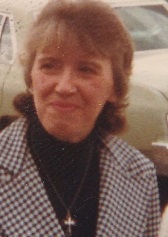 Date of Death: December 14, 2018
Date of Birth: September 29, 1935
Biography:
Auburn - Sarah Mortensen, 83, Lewiston, died on December 14, 2018 at Clover Health Care in Auburn Me. Sarah was born on September 29, 1935 in Antigonish, Nova Scotia, a daughter of Michael Dan MacDonald and Christina (McInnis) MacDonald. She attended Antigonish High School.
Sarah loved animals and feeding birds and squirrels in her back yard. She enjoyed shopping and long road trips, cooking, and making strawberry jam on her annual trips to Quebec. Sarah was always fond of spending time with her children and grandchildren.
Sarah began her career at Maritime Bell and Bell in Antigonish. In 1954 she was sponsored by Isabel MacDonald to come to the United States where she moved to Boston and worked as a receptionist at Blue Cross and Blue Shield. After raising her children, she worked as the Store Manager for Fannie Farmer Candy in Freeport, ME and then worked with children at the Right Direction Preschool and Daycare in Litchfield, Me.
Sarah is survived by her children: Paula Paladino and husband Henry, Susan Rodrigue and husband Daniel, Linda Mortensen and partner Kimmie Pinard, Karen Mortensen, Wendy Maxim and husband Ronald, Eric Mortensen and partner April Caron, and Dana Mortensen. Sarah is also survived her grandchildren Mackenzie, Ethan, Justin, Ryan and his wife Erin, Kodie, Sarah, Emily, Chase, and Lucas as well as her stepchildren Casey, Tanner, and Alexis.
Sarah also leaves behind her sister Mamie Stewart and Husband Robert "Bob" and their children, Donna, Glen and Suzanne and her brother John Douglas MacDonald.
She is predeceased by her parents and brothers Donald MacDonald, Joseph MacDonald, William "Billy" MacDonald, Frances MacDonald, and Blaise Mac Donald as well as by her husband, Paul H. Mortensen.
A visitation will be at Funeral Alternatives at 25 Tampa Street in Lewiston on December 21 from 5:00-8:00 pm.
In lieu of flowers donations may be made to the Greater Androscoggin Humane Society at 55 Strawberry Ave. in Lewiston.
Services are under the care and direction of Funeral Alternatives www.Funeralalternatives.net