« Obituaries | William (Brud) Morrison
William (Brud) Morrison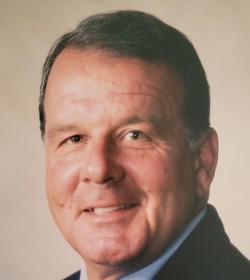 Date of Death: April 12, 2023
Date of Birth: October 19, 1948
Biography:
William (Brud) Morrison
Freeport – William H. (Brud) Morrison 74, passed away peacefully at home on April 12, 2023 surrounded by loved ones.
Brud was born October 19, 1948 in Rockville Center, NY and grew up on the Eastern end of Long Island. He attended WestHampton Beach High School and The Frederick Gunn School in Washington, CT graduating in 1967. It was during these years that he started to develop a lifelong passion for the ocean. He could found be clamming in his boat The Punt, duck hunting, sailing, working at the local boat yard or running the family boat around the Great South Bay. He loved everything about boating.
He attended New England College in Henniker, NH graduating in 1971 with a Bachelor of Arts degree. It was there that he met and married his wife Susan.
After college Brud started working for H.O. Penn, a Caterpillar dealership, in Poughkeepsie, NY where he worked until he and his family moved to Maine in 1977. He came to start and develop the on-highway truck engine division of Caterpillar at what is now Milton CAT. Brud's leadership and dedication to hard work led to many accomplishments as the truck engine sales and service grew. Brud was recognized by many as an expert in his field and leader in the truck engine business. He retired in 2014 after 32 years with Milton CAT and 43 years with the Caterpillar organization.
Brud had many special gifts – he was kind, caring, courageous and most of all a true gentleman. He will be remembered as a wonderful husband, father, grandfather, brother, uncle, cousin, friend and mentor to many. He loved his family and was happiest when spending time with them. Especially the many days spent boating on Casco Bay visiting the islands and fishing. He also enjoyed time spent in his workshop surrounded by many of his favorite things and working on projects.
Brud is survived by his wife of 53 years Susan (Mason) Morrison of Freeport; 3 daughters, Katy Carr and her husband Jason of York, Maine, Sarah Doran and her husband Steven of Freeport, Maine, and Meredith Black and her husband Kevin of Durham, Maine; six grandchildren, Jillian Carr, Bradley Carr, Ryan Carr, Olivia Doran, Aubrey Black and Allison Black; and one sister Susan Fahey of Ticonderoga, NY.
A celebration of life is being planned for this summer.
In lieu of flowers, memorial donations may be made in Brud's name to:
Chans Home Health & Hospice
60 Baribeau Dr
Brunswick, ME 04011
OR
Make-A-Wish of Maine
66 Mussey Rd
Scarborough, ME 04074