« Obituaries | Gerard T. Morin
Gerard T. Morin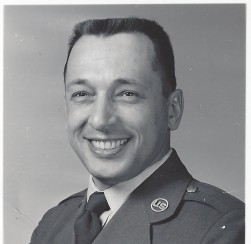 Date of Death: December 4, 2015
Date of Birth: July 8, 1928
Biography:
LEWISTON - Gerard T. Morin, 87, of Roy St, died Friday, December 4, 2015, at St. Mary's Hospital in Lewiston with his family by his side.
Mr. Morin was born in Lewiston on July 8, 1928, the son of Edgar and Eva (Paradis) Morin. He graduated from
St Dominic HS in the class of 1946, and completed one year of college thru the University of Maryland.
He was a communicant of the Basilica of Sts Peter and Paul. He was a member of AARP, the American
Legion Post 22 and the Air Force Association.
He had a military career of over 22 years. During his military career, he served in the Administrative
and Personnel career fields. He enlisted in the U.S. Navy on April 29, 1946. He served aboard the air-
craft carrier USS LEYTE (CV-32), for nine months, visiting many European countries on goodwill visits.
On February 24,1948, he was honorably discharged.
He then enlisted in the u.s. Air Force on August 11, 1948, serving in the occupation of Japan until June,
1950, and in Kunsan, Korea from July, 1950 to October, 1951. He was next assigned to the 777th Air-
craft Control and Warning Squadron in Klamath, Calif. During this assignment, he received a temporary
3-month assignment to Camp Mercury, Nevada. It was there that he participated in Operation
Tumbler-Snapper, where he witnessed the detonation of 8 atomic bombs.
His next orders directed him to the Colonels Group in The Pentagon, where he served as  Administrative
Supervisor from 1951 thru 1958. In October, 1958, he served a 2-year tour with the Office of the Air
Attaché at the American Embassy in Saigon, Vietnam. Upon completion, he returned to The Pentagon
in November 1960, serving with Intelligence Services until June, 1964.
He was then selected to serve at the Office of the Air Attaché at the American Embassy, The Hague,
Netherlands, until 1967. He served his last military assignment with Detachment 3, OCAMA, at JFK
Airport, New York, as an Administrative Supervisor, a position he held until his retirement.
Following his military retirement in 1968, he began a second career at d'Youville Pavilion (the former
Marcotte Nursing Home). He was the Director of Human Resources until 1985, at which time he was
promoted to Director of Support Services, overseeing eight departments. He retired from the nursing
home in 1993, with 25 years of service.  
He enjoyed playing bingo at Foxwoods Resort Casino every month for the last 20 years.
He is survived by two sons, Raymond and his wife, Danielle of Lewiston; David and his wife, Kathy,of Auburn; and a daughter, Julie Eichner and husband Shane of Gorham, six grandchildren, Justin, Jared, Brandon and wife Charissa, Elizabeth, Cody, and Rebekah; and two great-grandchildren, Ava Marie and Kiley: his ex-wife Denise (Gagne). 
There will be a Night of Remembrance for friends and family on Wednesday, Dec. 09, 2015 from 6pm – 8pm at the American Legion, Post 135, 40 Island Rd, in Sabattus.  A Memorial Service will be held on Thursday, Dec. 10, 2015 at 2pm at the Chapel at St. Peter's Cemetery, 217 Switzerland Rd., in Lewiston.  A private burial will be held at a later date.