« Obituaries | Eva Beatrice Morin
Eva Beatrice Morin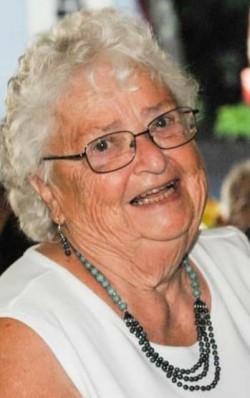 Date of Death: May 29, 2021
Date of Birth: September 14, 1933
Biography:
POLAND-Eva Beatrice Morin, 87,of Auburn, ME, passed away peacefully at home surrounded by her loving family on May 29, 2021, .
She was born on Sept.14, 1933 to parents Lionel Arthur, and Jeannette Marie Lizotte (Meunier)
Eva was a parishioner at Sacred Heart Church; member of Lucky Ones (club for adoptive mothers); and was on the Freedom Bowling League (used to be at the old Auburn Lanes for many years)
She loved her family and friends. She especially enjoyed family reunions/get-togethers. She always welcomed people into her home and was always ready to lend an ear or a hug, as needed. Her favorite pass time was knitting/sewing. She many many afghans and quilts throughout her years. She also enjoyed home gardening, bowling, and watching episodes of Little House on the Prairie and The Waltons. She made sure that her boys had everything they needed in order to enjoy a happy life. 
Eva was a homemaker and worked many years as a secretary/bookkeeper for the family businesses - E.W. Morin Jr Construction & Excavation, and REMCO Radiator & Auto Repair. 
She was predeceased by her husband of almost 70 years (Ethelbert Morin Jr), Parents (Lionel & Jeannette Lizotte), Sister (Theresa), Brothers (Normand, Paul and Robert), Grandson (John Koval), Nephews (Michael Lizotte and John Lizotte).
Surviving her are two Sons (Ronald A & Rachana Morin, of Springvale, ME and Robert A & Mary Morin of Poland, ME), Five Grandchildren (Amy Demers, Ashlea Koval & fiance Nick Nickerson, A.J. Walsh, Krystal Walsh and Trevor Morin), Five Greatgrandchildren (Hannah, Maizy, Ella, Maddox and Natalea)
The family would like to give a special thanks to the Androscoggin Home Health & Home Hospice staff for the tender loving care they gave to Eva during her final days.
Condolences may be expressed at www.funeralalternatives.net, and www.facebook.com/FALewiston