« Obituaries | Cora M. Moreau
Cora M. Moreau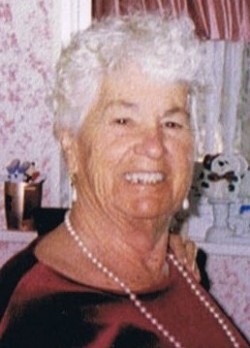 Date of Death: October 19, 2018
Date of Birth: August 2, 1918
Biography:
Cora M. Moreau, 100, passed away peacefully on October 19, 2018. Cora was born in Stockholm, Maine, on August 2, 1918, the daughter of Vital and Flavie St Pierre Marquis. She moved to Lewiston as a young woman, and met her husband, Thomas Moreau, there. Even though they moved to Bridgeport, Connecticut, Maine was always home, and when they retired, they returned to Lewiston. Cora and Tom were married for 50 years until his death in 1991.
In Bridgeport, Cora found her perfect job: she was a foster mother for infants from birth until they were adopted, and she was proud to say she cared for 101 babies during her career! A warm, friendly woman, Cora loved her family and her friends. She enjoyed bowling, bingo, and playing cards, and was an avid Red Sox fan. We are sure she passed secure in the knowledge that her favorite team is bound for the World Series!
Cora is survived by sons, Thomas W. Moreau and his wife, Gloria, of Brunswick, Georgia, and Robert Plessis, of Turner Maine. She was the devoted grandmother of Mary, Jack, Steven, Amy, Karin, David, Jennifer, and Tracy; the loving great-grandmother of Stefany, Tyler, Lacey, Mekenzi, Taylor, Madison, Hunter, Braxton, William, and Darien; and the proud great-great grandmother of Zoie, Zachary, Zayden, Zane, and Zarion. She is also survived by a sister, Gladys Cote of Ashland, Maine.
Cora was predeceased by her husband, Thomas, and her daughter, Nancy Dudra-Soucy.
 A memorial service will be held at a future date to be announced by the family.