« Obituaries | Christine G. Mitchell
Christine G. Mitchell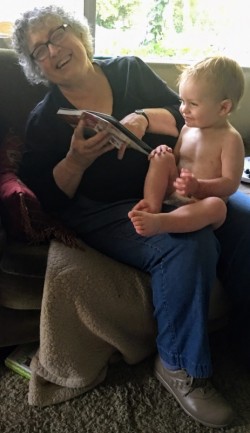 Date of Death: December 8, 2017
Date of Birth: February 5, 1940
Biography:
BRUNSWICK - Christine G. Mitchell, age 77, of Hillside Road, Brunswick, died Friday, December 8 at her home. She was born February 5, 1940 the daughter of Paul P. and Elinor (Jackson) Johnson. She attended Stoughton, Massachusetts schools and was a graduate of Stoughton High School in the class of 1957.
After completing a two-year course in retailing from the Modern School of Fashion and Design, she entered Northeastern University and earned a B. A. Degree in 1964. She then entered St. Lawrence Theological School in Canton,
N. Y. and completed a Masters Degree in Religious Education at Crane Theological School of Tufts University in 1966.
Christine married the Rev. James B. Mitchell on September 9, 1966.
She worked in retail at R. H. Stearns Department Store in Boston and for the Department of Health, Education and Welfare in Washington, D.C. as a cooperative student at Northeastern U. and for many years was a librarian, first in the reserve room at Wessell Library of Tufts University and for nineteen years in Lisbon Falls, Maine. She also worked as a homemaker and ran her own child care business.
A mother of two, she enjoyed parenting, being a grandparent, nature, gardening, teaching religious education classes, writing her memoirs, singing in church choirs and was a voracious reader.
She was a life-long member of Universalist Churches and most recently, of the Unitarian Universalist Church of Brunswick. She also belonged to Food Cooperatives, a Brunswick book club, a Memoir-Writing group and an Earth Care committee of the church.
Surviving her is her husband of 51 years, the Rev. James B. Mitchell, Minister Emeritus of the U. U. Church of Brunswick, a daughter, Rebecca Mitchell and partner Luke Gottlieb of Richmond, CA, a son, Ian Mitchell of Brunswick, a grandson, Sebastian Mitchell of Richmond, CA, three sisters, Priscilla Noyes of Trenton, Maine, Virginia Miller of Santa Fe, N.M. and Linda Weaver of Fort Collins, Colorado; two brothers, Paul P. Johnson of Monmouth, ME, and David M. Johnson of Cape Cod, MA; and several nieces and nephews.
A Service of Remembrance will be held at the Unitarian Universalist Church of Brunswick at a later date. Memorial donations may be made to the church at 1 Middle Street, Brunswick 04011.